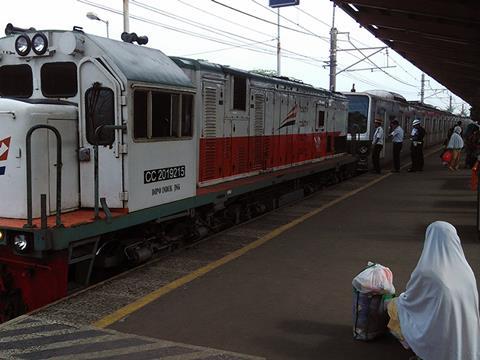 INDONESIA: Two 10-car Series 6000 electric multiple-units previously used on Tokyo Metro's Chiyoda Line arrived at the Port of Tanjung Priok in Jakarta from Japan on October 9, and a further batch is scheduled to be delivered later this month.
Earlier this year the KA Commuter Jabodetabek subsidiary of national railway PT KAI acquired a total of 60 second-hand EMU cars from Tokyo. The 1 067 mm gauge vehicles are being modified to meet KCJ's requirements before entering service, gaining a new livery as well as window grilles and obstacle deflectors.
The first 30 cars entered service in Jakarta during September, operating on the routes from Jakarta Kota to Bogor and Bekasi where they are replacing eight-car trainsets.
KCJ procured 13 similar 10-car EMUs in 2011-13, although those were equipped with armature variable field chopper controls while the latest batch have VVVF-IGBT technology.