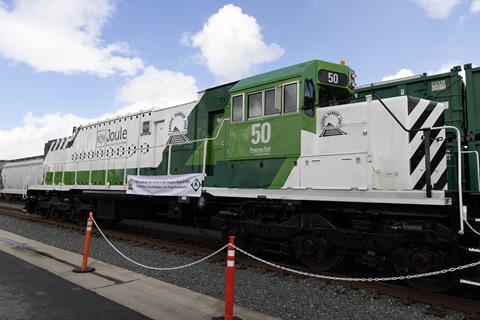 USA: Pacific Harbor Line has unveiled a Progress Rail EMD SD40JR Joule battery electric locomotive ahead of a one-year trial.
Anacostia Rail Holdings subsidiary PHL provides shunting services and dispatches all BNSF and Union Pacific trains within the ports of Los Angeles and Long Beach. It currently operates a fleet of EPA Tier 3 Plus and Tier 4 locomotives using 100% renewable diesel fuel.
The 3·2 MW six-axle SD40JR locomotive was rebuilt from a SD40-2. It has a lithium-ion battery, AC traction motors and individual axle control. It is charged using an EMD Joule Charging Station, and features regenerative braking.
The PHL loco will the first Joule to enter service in the USA, following on for the original launch of the concept with Brazilian mining company Vale. BNSF has also expressed interest, with an agreement for up to four locos announced in September 2022.