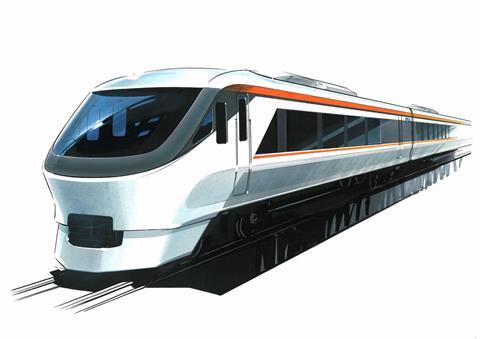 JAPAN: Central Japan Railway plans to replace the Series 383 tilting trainsets used on its Shinano 'wide view' limited express services operating mainly between Nagoya and Nagano with a fleet of Series 385 trainsets featuring more advanced body tilting controls.
The company announced in August that it will build an eight-car prototype for delivery in fiscal year 2026. After about one year of test running, JR Central expects to confirm that its 1 067 mm gauge Series 383 fleet will be replaced by new rolling stock to be introduced into commercial service from fiscal year 2029 onwards.
JR Central expects that its future fleet will offer a significant improvement in ride comfort thanks to the introduction of more advanced body tilting controls. This will feature gyro sensors that continuously monitor the position of the train in relation to the track, so ensuring accurate detection of the start of a curve and triggering immediate operation of the pendular body tilt mechanism.
The tilt control equipment deployed on Series 383 relies on measurement of the distance travelled based on the number of wheel revolutions. This has the disadvantage of being affected by wheelslip or wheelslide, for example with wet rails, meaning that the tilt mechanism may not tilt precisely at the start of a curve.
Running tests between Nagoya and Shiojiro on the Chuo Main Line using a Series 383 trainset featuring a version of the more advanced tilt controls demonstrated that it offered a 15% improvement in ride comfort over the equipment currently in use.
Series 385 will retain many features introduced with Series 383, including panoramic windows at each end of the train designed to offer passengers excellent views of the scenery on the Chuo Main Line. Entrance doors will be located in the same position as other rolling stock used on the route, ensuring that no changes will be needed to boarding procedures ― in Japan many platforms feature markings and boarding control 'fences' to ensure that passengers queue in the correct position for entrance doors on different types of train.
Series 385 will be equipped with JR Central's Data Integrated monitoring and ANAlysis system. First introduced on the Series HC85 with hybrid traction equipment, this relies on LTE communications to send component condition and performance data to lineside servers for automated analysis.