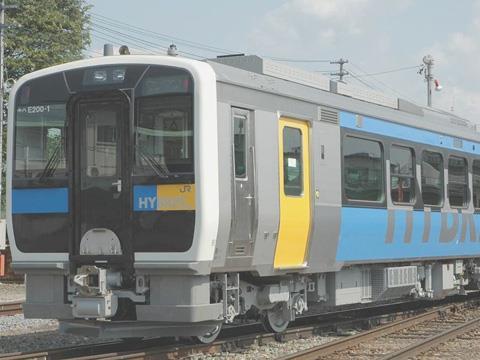 JAPAN: East Japan Railway announced on May 19 that it is calling international tenders for a fleet of diesel-electric multiple-units to operate services on non-electrified lines, with between 150 and 200 trainsets to be ordered in the coming years.
Bids are due by July 24 for an initial build of 63 vehicles to form 19 single-car and 22 two-car trainsets which will be deployed on services around Niigata and Akita. JR East said it hoped 'to see many applications from all over the world and to engage in dialogue with top-class manufacturers'. However, the railway emphasises that this is not intended as a framework contract for the entire programme and any further orders 'will be procured separately'.
Whereas the Kiha 40 Series DMUs which are to be replaced use a hydrodynamic transmission, the new DEMUs will have an electric traction package that can incorporate the latest advances in EMU drives. The railway says it will 'require the use of a number of electric railcar related technologies that JR East has already adopted and developed'.
The initial units are expected to enter service around Niigata over a two-year period, beginning in the third quarter of the financial year ending March 31 2018. They are to be deployed on the Niitsu – Sakata section of the Uetsu Main Line and the Niitsu – Niigata section of the Shinetsu Main Line. They will also work the Yonesaka Line between Yonezawa and Sakamachi and the Banetsu Saisen Line between Aizu-Wakamatsu and Niitsu.
The trains for the northern region around Akita will be deployed from the third quarter of FY2021. These will operate on the Akita – Higashi-Noshiro and Hirosaki – Aomori sections of the Ou Main Line and the Gono Line between Higashi-Noshiro and Kawabe, as well as the Tsugaru Line between Aomori and Mimmaya.