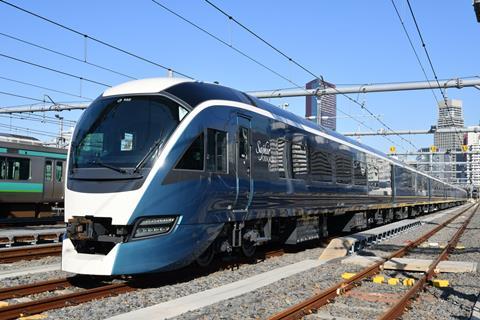 JAPAN: East Japan Railway has started driver training with the first of two Series E261 EMUs which are being supplied by Kawasaki Heavy Industries to operate the Super Odoriko service linking Tokyo to the scenic Izu peninsula, where the Fuji-Hakone National Park is famed for its hot springs.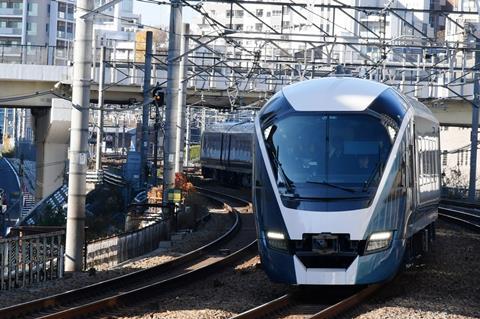 Branded as 'Saphir Odoriko', the E261s are due to enter service from March 14 2020, replacing the MOHA 251 'Super View Odoriko' trainsets, built in 1990-92. Designed for 1·5 kV DC operation, they will run from Tokyo and Shinjuku to Izukyu-Shimoda using the 1 067 mm gauge tracks of JR East and Izukyu Corp.
The eight-car aluminium-bodied EMUs are formed with five motor and three trailer cars, including driving trailers at each end. The intermediate cars are 20·5 m long and the driving cars 21·4 m; car weights vary from 37·4 to 40·5 tonnes, giving a total of 311 tonnes. The bogies are fitted with active suspensions. Each motored car has four 140 kW three-phase traction motors fed by VVVF inverters allowing full regenerative braking. Maximum speed is 120 km/h.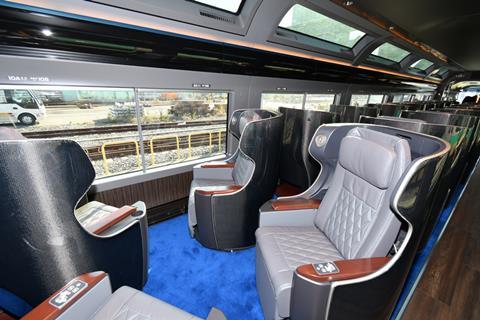 Reflecting their use on fully-reservable luxury services, the EMUs have seats for just 164 passengers. Car 1 has 24 'Premium Green Car' seats arranged 1+1. Cars 2 and 3 have compartments for four or six passengers, for use by families and small groups. Car 4 is the 'noodle car', with an open kitchen area and 16 seats for dining. The remaining vehicles have 'high grade' seating in a 2+1 configuration, with a seat pitch of 1 160 mm. As well as large panoramic windows, the vehicles have roof lights to give passenger the best possible view of the passing scenery.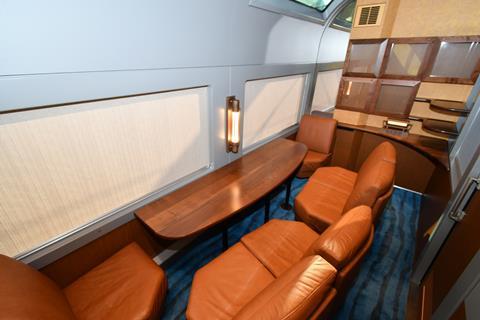 According to the operator, the livery combines Jogasaki grey representing granite, Izu azure for the sea and Shirahama white for the beach of the Izu peninsula.
In conjunction with the upgrading of the premium service, the 1981-built Series 185 EMUs that currently operate the Odoriko limited expresses will be replaced by Series 257s displaced from the Chuo Main Line. The Series 185s had originally been built to operate the connecting shuttle between Ueno and Omiya before the Tohoku Shinkansen was extended to Ueno.