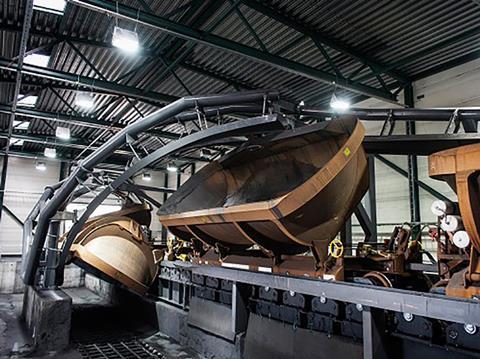 AUSTRALIA: Perth-based engineering and infrastructure company RCR Tomlinson has signed a 10-year agreement to manufacture and distribute Swedish company Kiruna Wagon's Helix Dumper wagon and unloading terminal design in Australia, New Zealand and Southeast Asia.
The Helix Dumper system uses a spiral-like structure to tip 100 tonne capacity wagons as a train moves slowly forwards. 'This technology has unloading rates up to three or four times faster than existing methods', said RCR Managing Director & CEO Dr Paul Dalgleish. 'I am convinced that the Helix Dumper will revolutionise rail transport and unloading for bulk commodities and that it will be of interest to a number of Australian mining companies seeking to reduce their transportation costs'.
Kiruna Wagon Managing Director Fredrik Kangas said RCR was 'exactly the kind of established and competent company with whom we wish to partner to get our products out to geographically distant markets'.
Kiruna Wagon secured its first export order in 2013, when 40 Bottom Dumper wagons were delivered to Rana Gruber in Norway.