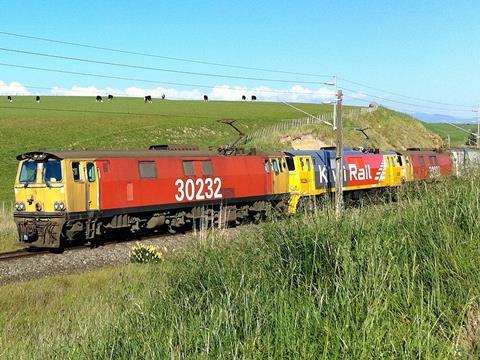 NEW ZEALAND: The government has agreed to fund the refurbishment of 15 locomotives to enable electric haulage of freight trains on the North Island Main Trunk line to continue.
The Brush Class EF electric locomotives dating from 1986-88 have become increasingly unreliable, and in December 2016 KiwiRail announced its intention to cease 25 kV 50 Hz operation on the route in favour of diesel haulage. Only the central 410 km Hamilton – Palmerston North section of the 680 km Wellington – Auckland NIMT is electrified, and full electrification was deemed unaffordable.
The government funding announced on October 30 will extend the life of the locomotives by 10 years, said the national railway's Acting Chief Executive Todd Moyle.
'When the KiwiRail Board made the decision to retire the electric fleet, it was to improve reliability for our customers. At the moment the EFs are breaking down every 30 000 km on average, well below our fleet target of 50 000 km, and only eight of them are able to be used. But as we said at the time, this was not a forever decision and the government's commitment to invest NZ$35m in the refurbishment provides the certainty to continue their use for the near future.'
The work including an update of the electronic control systems is to be undertaken at KiwiRail's Hutt workshops over the next three to four years, creating between four and eight jobs.
'We're making the right decision for the long term', said Deputy Prime Minister Winston Peters. 'Replacing electric locomotives with diesel would be a step backwards. By refurbishing these locomotives here, we're creating jobs in KiwiRail's Hutt workshop and supporting our local rail industry. It just makes sense'.
The NZ Transport Agency is to fund the development of business cases for further electrification of the Auckland network from Papakura to Pukekohe and adding a third main line in Auckland.
'Keeping the electric trains on-track is the right thing to do for the future of rail, particularly as we investigate options for further electrification of the network and the role of hydrogen-fuelled trains', said Acting Associate Transport Minister James Shaw.