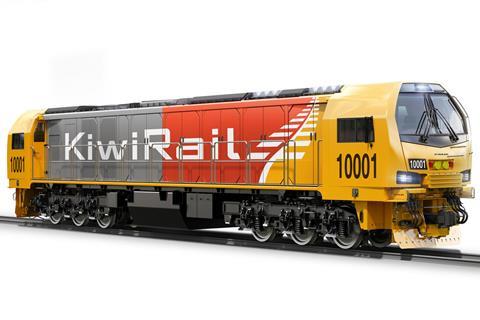 NEW ZEALAND: KiwiRail has selected Stadler to supply its next generation of main-line diesel locomotives, placing a framework contract with an NZ$403m firm order for an initial 57 to be deployed on freight and passenger services on the South Island's 'challenging' routes.
Announcing the order on October 11, Stadler said the 'state of the art' narrow-bodied monocoque Co-Co locomotives would be customised to the national railway's requirements, while incorporating 'service proven' components and systems.
The 1 067 mm gauge locomotives will meet EU Stage V emissions standards. Onboard technologies to optimise energy use will include an auto engine start/stop system to switch off the engine when idling, a driver energy reduction & advisory system and a train handling system to manage asset fatigue and energy performance. Onboard diagnostics will provide real-time information to support predictive maintenance.
The 3 MW rating will 'in many cases' enable KiwiRail to haul trains with a single locomotive, potentially reducing fleet CO2 emissions by 20% to 25%.
The two cabs will be designed according to the latest European standards, with Stadler, KiwiRail and the Rail & Maritime Transport Union co-operating to provide an 'ergonomic, comfortable and safe' working environment.
New era for rail
KiwiRail Group Chief Executive Greg Miller said the 'robust' procurement process had attracted 'the world's top four' locomotive builders, and the locos which are scheduled to arrive from Stadler's Valencia plant in Spain between early 2024 and 2026 would represent a new era for rail in the country.
'These are the latest-generation locomotives, which will set up KiwiRail's South Island freight business for many decades ahead', he said. 'For rail to play its proper role in New Zealand's freight system, we need our services to be on time, every time. Right now, our 65-strong South Island locomotive fleet has an average age of 47 years. Our machines have been used for 17 years, on average, beyond their economic life. The fact that some locomotives are closer to 60 than to 50 – means reliability is a real issue. Some of our machines have had three complete rebuilds over their lives, at significant expense. And we've still been using 1970s technology in those rebuilds.
Miller explained that 'Stadler's high quality, fuel efficient, more powerful locomotives will allow us to improve service reliability to get more South Island freight off New Zealand's roads and onto rail. The low emission locomotives are also an important step in KiwiRail's plan to be emission neutral by 2050.'
Deputy CEO of Stadler Dr Ansgar Brockmeyer said 'we are very proud to have signed our first contract for New Zealand and are fully committed to a long-term partnership with KiwiRail. With our wide portfolio of modular and customised vehicle solutions, green traction concepts, digital solutions and tailored expert support services, we indeed see the opportunity to provide further value to KiwiRail and New Zealand mobility beyond the delivery of the first project.'