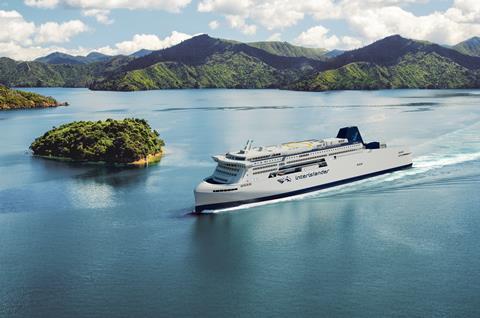 NEW ZEALAND: KiwiRail has issued a request for proposals for its next generation of train ferries for the Wellington to Picton route linking the road and rail networks of the North Island and South Island.
The two new ships 'represent a once-in-a-generation opportunity to transform the Cook Strait crossing', said Group Chief Executive Greg Miller.
The current Interislander fleet of three roll-on roll-off ferries, one of which has rail facilities, carries 800 000 passengers and up to NZ$14bn of road and rail freight each year.
The new ships, which are expected to arrive in 2024 and 2025, will be almost 40 m longer and 5 m wider than the current vessels, with the two new ferries being able to carry twice as many passengers as the current three ships, as well as 300% more rail wagons and almost double the number of road vehicles.
More efficient engines and the use of battery power will significantly reduce emissions, and the design will make provision for the possible use of new fuels in the future.
The scope of the investment also covers new terminal, linkspan and marshalling yard infrastructure in Picton and Wellington.