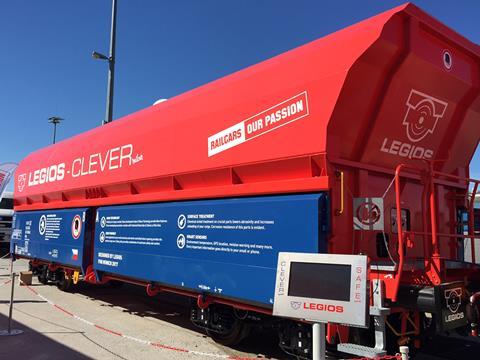 CZECH REPUBLIC: A range of advanced subsystems and materials selected to highlight possible technology options are included in the Legios Clever demonstrator wagon which Legois exhibited at the Transport Logistic trade fair in München on May 9-11.
Legios worked with researchers at the University of Liberec to develop nanotechnology-based glue as a lightweight alternative to welding for car body production. To ensure the interior of the wagon is more resistant to friction damage, a novel nickel chemical surface treatment has been deployed.
The 87 m3 capacity Falns hopper wagon has an axleload of 22·5 tonnes, with a payload of 66·8 tonnes which is a gain of 2 tonnes compared to existing designs. A range of condition monitoring and payload detection sensors are powered by energy harvested from vibration, backed up by batteries with a six-year life. Customers can monitor the wagon in real time via an online interface, with parameters including GPS location, wheelset temperature and exterior climatic conditions. Remote control operation of the unloading doors is accompanied by a warning alarm.
'We don't expect anyone to order a wagon with all these features', Export Sales Manager Roman Straka told Railway Gazette, but the manufacturer expects the technology demonstrator to be an important tool in attracting new customers.
Legios also exhibited its first LPG tank wagon at the München show. The Zags bogie wagon has a capacity of 120 m3 and includes a range of enhanced safety features including a steel heat shield and two options for crashworthy buffers and drawgear.