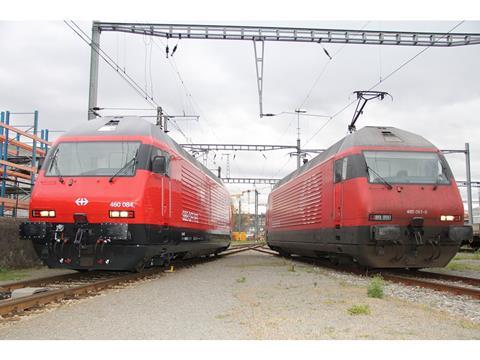 SWITZERLAND: A Re460 electric locomotive which has been fitted with IGBT traction converters as part of a mid-life refurbishment programme was presented at Swiss Federal Railways' Yverdon-les-Bains workshops on October 17.
The 119 Re460 locomotives form the backbone of SBB's long-distance passenger locomotive fleet. Delivered by SLM and ABB in 1992-96, they are rated at 6·1 MW and have a maximum speed of 230 km/h.
The SFr230m modernisation programme is focused on lowering maintenance costs and improving energy efficiency, reliability and availability for the next 20 years of service. The scope of the work includes upgrading the cabs and replacing the air compressor with a pair of oil-free units to improve redundancy. The first two refurbished locomotives retained their GTO converters, but the locomotives now being refurbished are receiving water-cooled IGBT converters supplied by ABB under a SFr69·2m contract.
Once the project is complete, SBB expects to obtain energy savings of around 27 GWh/year, which it said was equivalent to the consumption of the town of Olten.