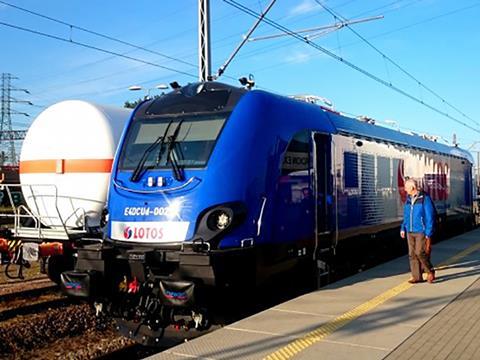 POLAND: Orlen KolTrans has leased three of five Griffin locomotives which Newag had originally built for Lotos Kolej under a deal which has been terminated following a dispute about the lack of onboard ETCS equipment.
The locomotives were ordered in December 2015, when open access freight operator Lotos Kolej and ING Lease signed a 56m złoty contract for Newag to supply and maintain five E4DCUd Griffin 5·6 MW electric locomotives with 350 kW last-mile diesel engines. They were ordered without ETCS onboard equipment.
Delivery was scheduled for last year, but production was delayed and during this period new regulations came into force banning locomotives without ETCS from operating on TEN-T routes equipped with ERTMS. A dispute then arose, with Lotos Kolej arguing that the ban applied to all ETCS-equipped routes, which would severely impact its operations, while Newag believed it only applied to routes where ETCS was the sole form of signalling.
ETCS Level 1 is currently installed on the CMK trunk line which is used primarily by passenger trains, while Level 2 has been installed on the Legnica – Węgliniec line and is being fitted to the Gdańsk – Warszawa corridor. An inability to use the new locos on these routes would cause problems for Lotos Kolej, and these would get worse with the further roll-out of ETCS.
Lotos Kolej said it had ordered locomotives with full operating certification, and had offered to pay the additional cost of installing ETCS onboard equipment. Newag said it had asked Lotos Kolej to take over the locos without ETCS, and then terminated the deal after this did not happen. It has now bought the locomotives back from ING Lease.
On February 2 Orlen KolTrans signed a contract to lease three of the locos for two years, with a possible extension, and they were formally handed over the following day. A user for the other two locos is still be finalised.
Lotos Kolej said that even without the Griffins it had enough locomotives to cover its needs.