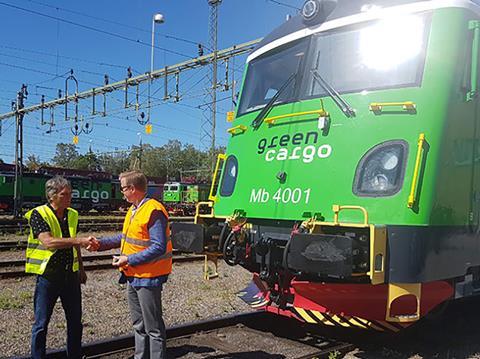 SWEDEN: The first two of eight Transmontana electric locomotives which Green Cargo has ordered from Romanian manufacturer Softronic were formally handed over at the freight operator's Eskilstuna depot on July 24.
Green Cargo ordered its first two Transmontana locomotives in July 2017, and then in April this year it ordered a further six which are scheduled to be delivered in autumn 2019.
The six-axle 6 MW design with asynchronous traction motors is derived from the EA locomotive family which was built by Electroputere in Romania in 1967-91 under licence from Sweden's ASEA. The first of the Transmontana family of locomotives was produced in 2010, and one was tested in Sweden during 2015.
Green Cargo expects its new locomotives to be able to haul trains of up to 3 000 tonnes, twice the load of its Rc locomotives dating from the 1970s.
Speaking at the handover, Green Cargo's Markus Gardbring said this would enable the operator to provide more efficient logistics services, with heavier trains offering greater capacity and lower transport costs for customers.