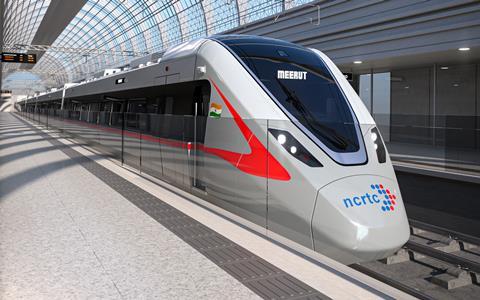 INDIA: The design of the trainsets ordered for the 82 km Delhi – Ghaziabad – Meerut Regional Rapid Transit System commuter line was unveiled on September 25.
Bombardier Transportation said the 'fresh, modern and advanced' design had been inspired by Delhi's Lotus Temple, 'resonating a unique amalgamation of sustainability and India's rich heritage.'
National Capital Region Transport Corp awarded Bombardier Transportation a Rs25·77bn contract in May covering the supply of 40 electric multiple-units of two types and the provision of 15 years of maintenance. There are options for up to 90 more cars and a further two years of maintenance.
'These energy-efficient trains with exceptional ergonomics and low life cycle costs will contribute towards making India's first RRTS futuristic and sustainable', said NCRTC Managing Director Vinay Kumar Singh, when the first images of the design were released. 'Clubbed with state-of-the-art commuter-centric features, RRTS is going to transform the way people travel in NCR and set a new benchmark for similar projects in the future.'
The order covers 30 six-car sets for longer distance regional services on the route from Delhi, and 10 three-car 'intra-city mass transit' sets to work local metro services through Meerut on the 21 km 13-station section between Meerut South and Modipuram Depot.
The 1 676 mm gauge EMUs are being designed at Bombardier Transportation's Global Engineering & Technology Centre in Hyderabad, and will be manufactured at its Savli plant near Vadodara. Maintenance will be undertaken at depots in Duhai and Modipuram.
The 25 kV 50 Hz air-conditioned EMUs will offer an 'accessible and welcoming environment', with automatic plug doors, CCTV, 2+2 transverse seating at 'comfortable' pitches and space for standing passengers and luggage.
The six-car trains for regional services will have business class accommodation and a women-only car, while the three-car sets for local transit services will have a capacity of around 900 passengers.
The modular design makes provision for the EMUs to be lengthened to nine cars.
The regional trains will operate at up to 160 km/h, providing a journey time between Meerut and Delhi of less than 60 min. Ridership is estimated at 800 000 passengers/day.
Delhi – Meerut is the first phase of the RRTS project to develop a 383 km network of 'semi high speed' lines carrying high frequency commuter services connecting Delhi with cities in adjoining states to support more balanced and sustainable urban development.