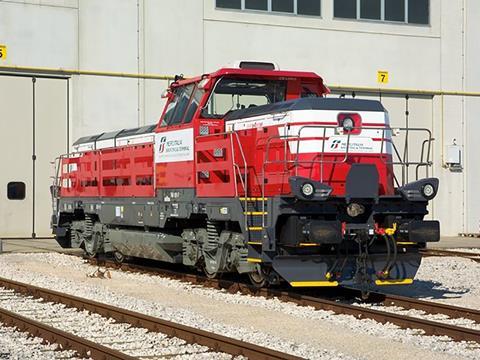 ITALY: CZ Loko has delivered five EffiShunter 1000 shunting locomotives to Mercitalia Shunting & Terminal, which will deploy them at freight terminals in Milano, Ravenna and Livorno.
The 100 km/h TSI-compliant four-axle single-cab locomotives have 895 kW Caterpillar C32 engines, AC-AC transmissions and a fire safety system.
'This contract has both a strategic and symbolic value for CZ Loko', said the manufacturer's Managing Director Josef Gulyás at the handover ceremony. 'Although CZ Loko has supplied almost 60 locomotives of various classes to the Italian market, these were always just upgrades. Now, for the first time, we have succeeded with a new vehicle meeting strict European TSI standards.'
This showed that CZ Loko could compete in a the 'fierce' locomotive market, he added.
The Mercitalia order included locomotive number 744.105-8, the 1 000th to be produce in CZ Loko's modern history. This loco will be on display at the InnoTrans trade fair in Berlin during September.