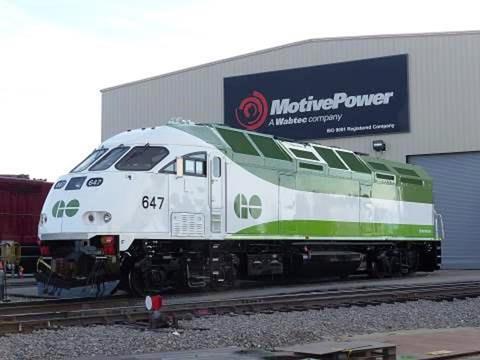 CANADA: Greater Toronto regional transport agency Metrolinx has taken delivery of a prototype Tier 4 compliant diesel locomotive from Wabtec's MotivePower subsidiary, and has signed a US$97m contract for 16 more to be delivered from 2017.
According to Wabtec, the MP54 prototype is the first commuter locomotive to be delivered in North America that has been certified to Tier 4 standards. It has been rebuilt from an MP40PH-3C locomotive built in 2010, which was originally powered by a Tier 2 16-cylinder EMD 710G3B engine rated at 4 000 hp.
In 2011 MotivePower was awarded a contract to repower 11 of GO Transit's MP40 locomotives. The original plan was to fit Cummins QSK90 engines rated at 4 000 hp, but GO Transit subsequently decided to install twin QSK60 engines for greater operational flexibility; these have a combined rating of 5 400 hp.
The prototype was sent to the MotivePower plant in Boise in 2012 for repowering, and GO Transit subsequently took delivery of 10 new Tier 3 compliant locomotives in 2013-14. The prototype finally returned to Toronto in November 2015 for testing before entering revenue service.
The twin QSK60 engines in the MP54 are fitted with integrated selective catalytic reduction exhaust after-treatment, which is expected to reduce particulate emissions by 85% and NOx by 75%, in order to meet the Tier 4 requirements. The 16 additional locomotives will also be repowered units, which Wabtec says will be 'based on a similar platform' with AC traction equipment.