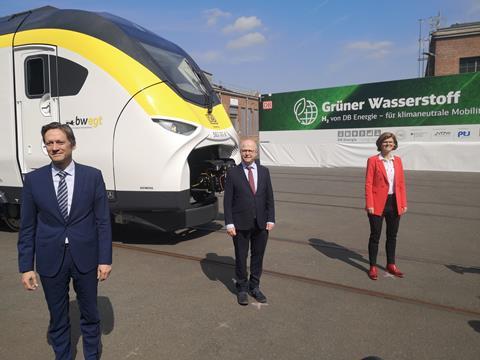 GERMANY: Siemens Mobility has unveiled the first Mireo Plus H hydrogen multiple-unit, along with a mobile hydrogen storage trailer. Equipped with a fuel cell and lithium-ion battery traction system, the Mireo Plus H is designed to replace diesel traction on regional passenger services, using 'green' hydrogen to eliminate CO2 emissions.
Speaking at the roll-out at Siemens Mobility's Krefeld factory on May 5, Daniela Gerd tom Markotten, DB Board Member for Digitisation & Technology, said the operator was committed to both battery-electric and hydrogen multiple-units as alternatives to diesel traction on non-electrified routes. Batteries were seen as the better option for shorter routes while hydrogen was favoured for longer ones, she explained.
Michael Theurer, Parliamentary State Secretary in the Federal Ministry for Digital & Transport, said the ministry estimated there would be a need for between 1 700 and 2 500 trains with alternative traction systems across Germany by 2038.
'In its coalition agreement, the federal government agreed to electrify 75% of the country's rail network by 2030', he said. 'Alternative drives can help reduce emissions from diesel rail transport. This way, we'll be able to operate virtually climate-neutral on rail routes where full electrification is not possible.'
Mireo Plus H development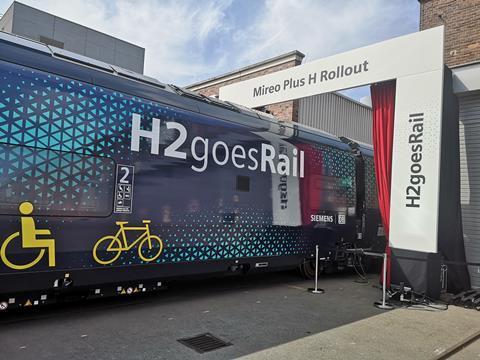 The Mireo Plus H has been developed as part of the H2goesRail project with €13·74m of funding from the Federal Ministry for Digital & Transport as part of the National Innovation Programme for Hydrogen & Fuel Cell Technology.
'The H2goesRail project will not only test the use of hydrogen for rail, but substantially advance the technology', Theurer explained.
Siemens Mobility CEO Michael Peter said 'with the Mireo Plus H, we've developed the next generation of hydrogen-powered trains that offers a particularly long operating range and faster acceleration. Each train delivered can save up to 45 000 tonnes of CO2 over its service life of 30 years compared to corresponding travel with cars.'
While Alstom's first iLint hydrogen units entered revenue service in 2018, Siemens Mobility does not see itself as being behind its competitor.
Peter said Siemens Mobility had deliberately developed a 'second generation' train, with lightweight construction, which offered sufficient range for a full day of use. The trainset was no longer a test vehicle, but already suitable for everyday use as part of the company's Mireo range, he emphasised.
Hydrogen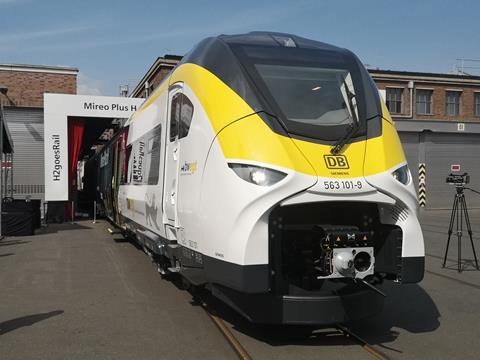 A key part of the project has been the development of an overall hydrogen platform ready for deployment.
The hydrogen is to be produced in Tübingen by DB Energy, using electrolysis with 'green' electricity taken directly from the overhead electrification.
DB has developed a way of refuelling a hydrogen train for a full day of operation in 15 min, taking no longer than a DMU. A mobile hydrogen storage unit resembling a 45 ft container has been developed to make it possible to undertake trials on other non-electrified routes.
The DB maintenance depot in Ulm will be equipped to service the unit, supported by the manufacturer.
'For Deutsche Bahn, hydrogen trains are an important component on our way to achieving climate neutrality', said Gerd tom Markotten. 'With our development of the mobile hydrogen filling station and the related maintenance infrastructure, we are showing that we not only can do mobility, but technology as well.'
Operation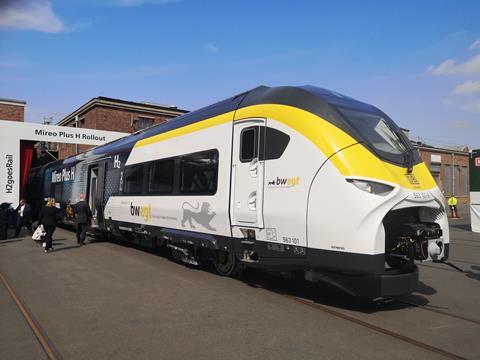 The two-car unit is to undergo commissioning and approval trials at the Wegberg-Wildenrath test centre, and will then be sent to Baden-Württemberg for test running in 2023. It is scheduled to enter regular passenger service between Tübingen, Horb and Pforzheim in January 2024. Approximately 120 000 km of timetabled operation is planned, with the hydrogen unit expected to save around 330 tonnes of CO2 a year compared to the diesel-powered train it will replace.
A second Mireo Plus H unit will undergo 30 months of in-service trials with Bayerischen Regiobahn between Augsburg and Füssen from mid-2023.
Siemens Mobility estimates that a Mireo Plus H covering 200 000 km/year in normal; service could save 520 tonnes of CO2 per year depending on the route profile.
Siemens Mobility and DB will be showcasing the H2goesRail project and displaying the Mireo Plus H at InnoTrans 2022 in Berlin during September.