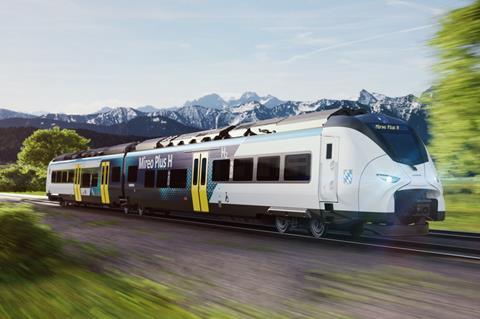 GERMANY: An agreement been signed for a Siemens Mobility Mireo Plus H hydrogen fuel cell train to be trialled on Bayerische Regiobahn's Augsburg – Füssen route.
Siemens is developing the Mireo Plus H to have a range of up to 800 km, powered by two roof-mounted 200 kW fuel cells from Ballard Power combined with under-floor batteries from Saft. The two-car trainset is scheduled to be presented to the public in early 2022, with initial test runs planned for 2023 before it enters passenger service with BRB in January 2024.
BRB Technical Director Arnulf Schuchmann said the rail operator was 'curious and open to alternative forms of propulsion', adding that its parent company Transdev Group had experience with alternative drive systems in the bus sector.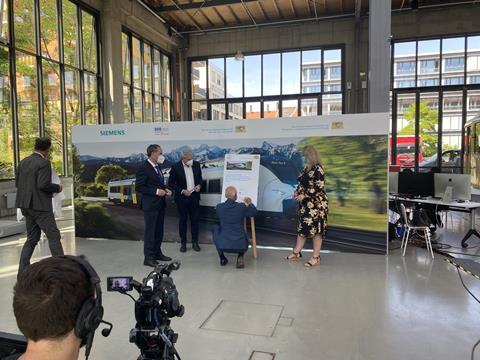 Managing Director Fabian Amini said electrification of as many lines as possible was still the best environmental and economical approach, but hydrogen offered an option for lines where this is not viable.
'Many details, including the topography of the route, space available for refueling systems and legal requirements, are decisive for what traction makes sense where', Schuchmann explained.
'My ministry is promoting research, development and applications in the field of hydrogen technology', said Hubert Aiwanger, Bayern's Minister for Economic Affairs, when the Land signed a memorandum of understanding for the project with BRB and Siemens Mobility on July 12. 'We are organising this rail project together with our partners because we're convinced that hydrogen technology will make a significant contribution to decarbonising transport. We'll prove in Bayern that business and climate protection can be reconciled with green hydrogen.'
Minister for Housing, Building & Transport Kerstin Schreyer said Bayern 'sets itself ambitious climate targets and wants to implement a clear climate protection strategy in the transport sector'. Green hydrogen has a 'special role' in this, with the potential to be used in a wide range of applications including the complete conversion of rail transport to renewable energy.
Transdev's Oberlandbahn was also considered for trials, but was dropped for technical reasons. DB Regio's Südostbayernbahn is also planning to use hydrogen trains.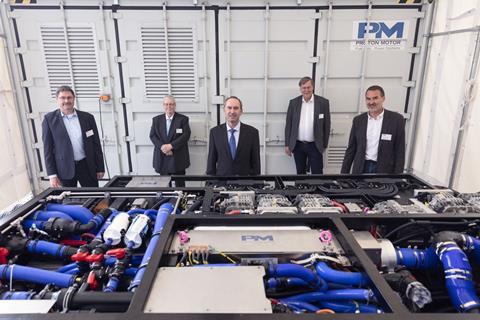 Proton Motor Fuel Cell is producing a tailor-made 214 kW hydrogen fuel cell system for an all-electric rail milling machine comprising two fully redundant systems of 107 kW each. 'In heavy-duty traffic with high vehicle weights and necessary ranges, the fuel cell drive has great potential to rapidly advance the decarbonisation of the transport sector', said Aiwanger when he visited the Proton plant on July 7.