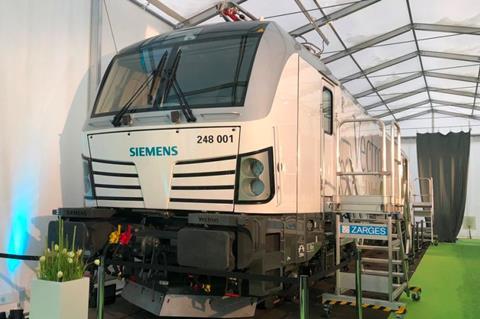 GERMANY: Mindener Kreisbahnen has ordered two Vectron Dual Mode electro-diesel locomotives from Siemens Mobility.
These will be able to operate from the 15 kV 16·7 Hz overhead electrification or by using a 2 400 kW diesel engine on non-electrified routes.
The locos are scheduled to be delivered in the first quarter of 2021 for use on MKB's existing freight services as well as to haul new traffic.
'The freedom to operate on non-electrified tracks offers cost advantages and makes Vectron Dual Mode ideal for MKB', said Managing Director Johannes Marg on March 26. 'The performance and efficiency of this locomotive perfectly matches our strategic orientation in freight transport.'
Mindener Kreisbahnen traces its history to 1898. It is 100% owned by the Minden-Lübbecke district authority, and has a 40 route-km network around Minden with 29 private sidings taking it to 50·7 track-km. Its freight traffic in 2018 totalled 614 200 tonnes and 94·5 million tonne-km. The company also owns local bus operator MKB-MühlenkreisBus.