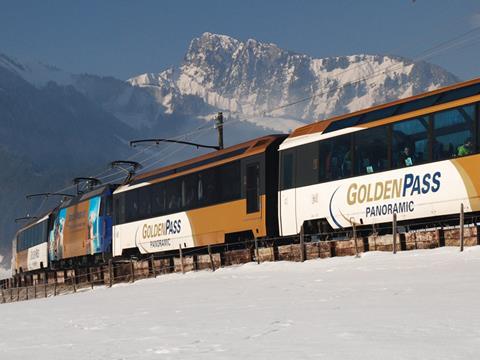 SWITZERLAND: Montreux-Oberland Bahn has ordered a fleet of 20 gauge-changing coaches to operate through services between Montreux and Interlaken. To be marketed as GoldenPass Express, the service is due to be launched by MOB and its partner BLS from the timetable change in December 2020.
To be built by Stadler, MOB's gauge-changing fleet will have panoramic windows, continuing a tradition which has helped attract tourists to the 62·4 km Montreux – Zweisimmen route since 1976. The cars will be mounted on newly-developed gauge-changing bogies supplied by Alstom in Germany. These will initially be mounted under existing cars for a period of trials that will start as soon as gauge-changing facilities have been completed at the break of gauge in Zweisimmen.
Work has been in progress to rebuild the station at Zweisimmen since 2015, and gauge-changers should be operational on two tracks 'by autumn 2018'. MOB says that extensive testing of the gauge-changing equipment will be required before it is approved for commercial operation, delaying the launch of through services beyond the most recently planned start date of late 2019. In particular, MOB will need to demonstrate the reliability of the gauge-changing facilities in winter conditions.
Plans envisage that MOB will haul the through trains over the metre gauge 900 V DC line between Montreux and Zweisimmen using two-car Series 9000 sets also supplied by Stadler. BLS will provide motive power for the 1 435 mm gauge part of the route between Zweisimmen and Interlaken Ost, which is electrified at 15 kV 16·7 Hz.
Montreux-Oberland Bahn's plans for gauge-changing trains were described in the August 2016 issue of Railway Gazette International magazine, which subscribers can access in the digital archive.