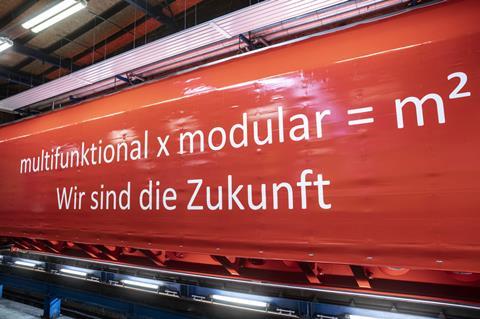 GERMANY: Following an 18 month development programme and several months of test running, DB Cargo and VTG formally presented their prototype m² wagon in Berlin on September 7.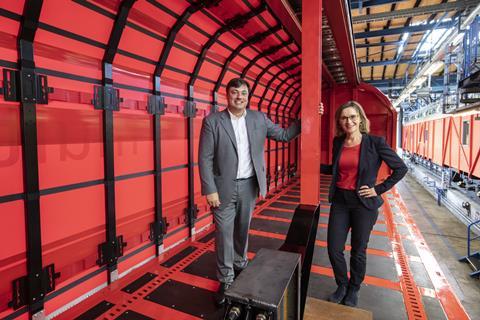 As with similar concepts under development in Austria and Switzerland, the m2 wagon is intended to provide a multifunctional design which can be customised to meet the requirements of individual customers. According to the promoters, the aim is to optimise wagon parameters such as weight, mileage and cost.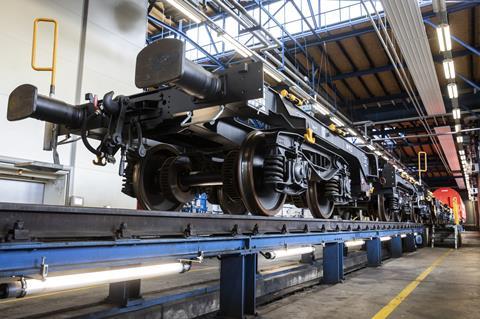 The basic platform is a four-axle flat wagon, which can be configured with a range of alternative bodies. These will be available with loading lengths from 10·5 m to 22·6 m. Standard components such as bogies, wheelsets and tread or disc brakes can be fitted as appropriate for each application. Following completion of test running, the promoters hope to obtain certification by 2021 for the vehicles to be used in commercial operation.
The m² project builds on earlier collaboration between DB Cargo and VTG as part of the innovative freight wagon project funded by the Federal Ministry of Transport & Digital Infrastructure, which ran from 2016 to 2019. During that initiative the two companies jointly developed four different wagon models and trialled 27 innovative components aimed at making rail freight more economical, more energy-efficient and quieter.
'The m² we are developing is the freight wagon of the future', suggested DB Cargo CEO Dr Sigrid Nikutta. 'The new system gives us a variable platform that lets us flexibly swap superstructures, making rail freight even kinder to the environment and more adaptable than ever. That enables us to respond much faster to the needs of our customers.'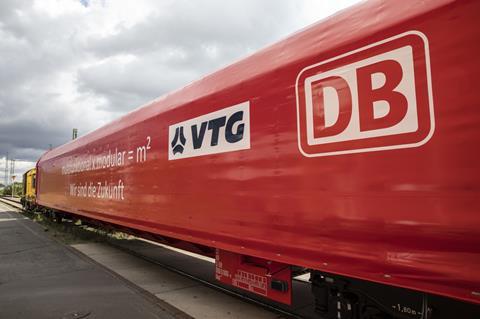 VTG CEO Dr Heiko Fischer added that 'the m² project focuses squarely on the needs of the forwarding industry. The new wagon can quickly and easily be adapted to specific transport requirements. That makes rail freight more attractive and better able to compete with road haulage.'