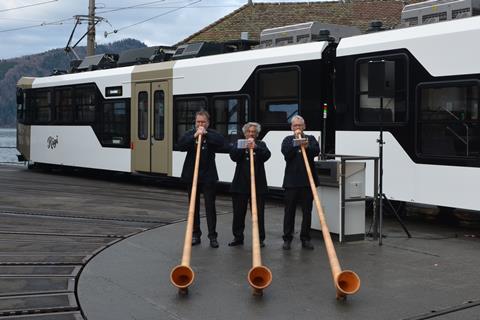 SWITZERLAND: Mountain railway and cable car operator Rigi Bahnen officially unveiled its new Stadler rack EMUs on April 7, with the first train entering passenger service the following day.
Equipped with the Riggenbach rack technology, the 1·5 kV DC Bhe 4/6 EMUs will initially be used on the Vitznau – Rigi Kulm route. Following minor infrastructure adjustments and changes to platforms they will also be deployed on the Arth-Goldau – Rigi Kulm route, where Rigi Bahnen is focusing its heritage vehicles.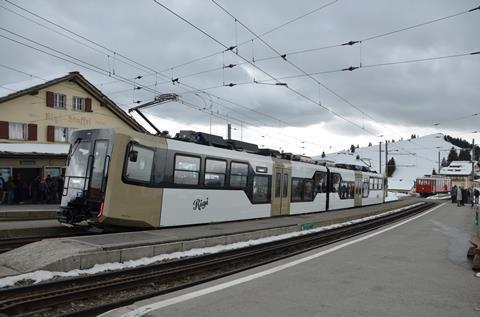 Procurement began in September 2017, with the operator looking to expand its fleet, improve its timetable and increase comfort and accessibility, rather than replace all of its older rolling stock.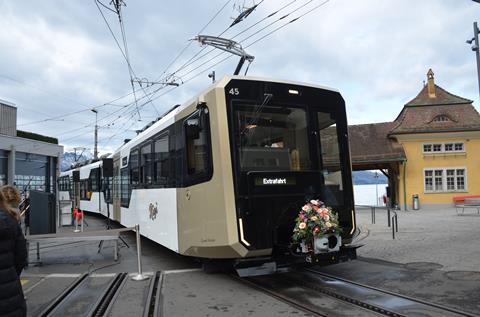 Designs were developed in 2018 and financing was secured in January 2019. The SFr38m order for six trainsets and spare parts was signed with Stadler on May 22 2019, although manufacturing did not get underway until October 2021. The EMUs were styled by Milani Design & Consulting.
The aluminium bodied two-car articulated units are 34·8 m long and 3 000 mm wide with spaces for skis and sledges. Each has a capacity of 150 seated and 53 standing passengers.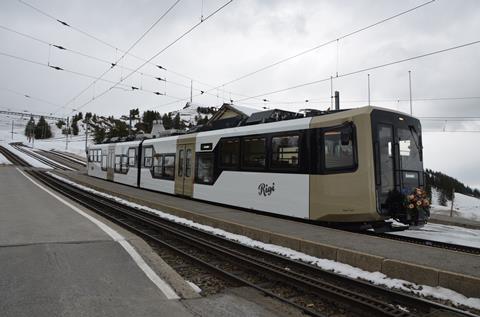 The end bogies are powered, while the centre bogie under the articulation is not. The unit's 1·6 MW continuous rating permits a maximum speed of 20 km/h uphill and 17·5 km/h downhill. The EMUs are equipped with regenerative braking, and two units can operate in multiple. They have digital radios, with 4G data transfer and GPS.
There are four low-floor entrances per side, and a front door for the driver. The 2+3 seats have USB charging sockets and stop request buttons. The units have heating and ventilation systems, CCTV, internal and external display screens and announcements, LED headlights and a laser-controlled anti-collision assistance system.