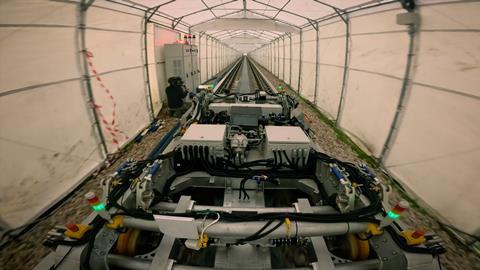 POLAND: Technology company Nevomo has announced the successful completion of tests to demonstrate the potential for passive levitation of vehicles on existing railway infrastructure.
In what Nevomo described as a 'world first', its MagRail tests were undertaken on a 720 m long section of 1 435 mm gauge railway at Nowa Sarzyna in Poland.
A 6 m long wagon bogie with a mass of 2 tonnes was propelled by a linear motor up to a speed of 135 km/h; at around 70 km/h, the wheels left the running rails and achieved stable levitation, the company said. The demonstrator vehicle was able to accelerate from a standstill to 100 km/h in 11 sec.
The technology combines trackside levitation beams with a linear motor stator mounted between the running rails of conventional railway infrastructure. The levitation beams are energised only when a magnetically equipped vehicle is within range; this 'limited energisation' approach is similar to the ground-based power supply technology used in the tram sector.
Future lightweight MagRail vehicles would be fitted with magnets to create both the levitation effect and for traction.
Pivot away from hyperloop
Earlier this year, Nevomo reached an agreement with leasing company GATX Rail Europe to use conventional wagons to test its MagRail Booster concept for retrofitting existing rolling stock to enable linear motor propulsion.
Nevomo has its roots in the hyperloop concept first hypothecated by entrepreneur Elon Musk as 'the fifth mode of transportation'; the company was originally branded Hyper Poland. However, the business has since moved away from the hyperloop idea to focus on using linear motors to enhance the performance of existing railways.
Its initial focus is on providing targeted enhancements to rail operations, for example by using the MagRail Booster system to replace the need for banking locomotives on steeply graded lines used by heavy freight trains. It also sees potential for 'power and glide' applications to reduce the energy consumption of lightly used railways, or to support the deployment of discontinuous electrification.
Nevomo also envisages the use of independently powered wagons to create automated freight trains; Railway Gazette International understands that this is likely to be first demonstrated on a private industrial railway or at a container terminal.
The company said in a statement that it hoped 'to start commercialising the first version of MagRail for freight transport in 2024'.
Among the challenges acknowledged by the promoters is the need to demonstrate that the levitation beams and associated magnets do not create undue electromagnetic interference with existing fixed assets such as axle counters and point machines.
To date, Nevomo has raised €11m of funding comprising €5·5m of equity and €5·5m in non-dilutive EU grants. Last year the company was awarded €17·5m from the European Commission, made up of an EIC Accelerator grant worth €2·5m and €15m in equity. Funds are now being raised for a Pre-Series A round of €7m; Nevomo's principal investors include EIT InnoEnergy and Hütter Private Equity.
'Today marks a landmark moment in Nevomo's development', said Przemek Ben Paczek, CEO & Co-Founder of Nevomo on September 5. 'For the first time in railway history, a rail vehicle moved not on the existing tracks, but over them, without friction. It shows that our MagRail technology is not just a vision for the future; it is a tangible solution for today'.
'The successful tests are the result of the knowledge and hard work of dozens of our engineers and experts', said Product Development Director Sebastian Kaluza. 'We already collaborate with industry giants, including Rete Ferroviaria Italiana, SNCF, Duisport and GATX to define various applications for MagRail, and these successful tests are paving the way for pre-commercial operational pilots.'