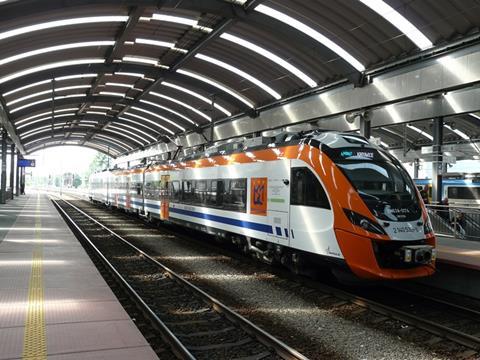 ITALY: Newag announced on December 10 that it had signed a framework contract with regional operator Ferrovie del Sud-Est for the supply of five electric-multiple units with options for up to 10 more.
The base order is worth €20·2m, with the total value rising to €60·5m if all options were exercised. Deliveries are to commence in December 2016, and options can be exercised within five years.
The articulated three-car 36WE EMUs form part of the next generation of Newag's Impuls family. They will be 58·4 m long. Rated at 1·6 MW, they will have a maximum speed of 160 km/h.
Each set will have capacity for 330 passengers, including 170 seated, as well as bicycle spaces. The interior will be equipped with LED lighting, CCTV and air-conditioning.
This is the first EMU order that Newag has won in Italy. In 2013 the Polish company finalised its first Italian order, a €14·8m contract to supply 950 mm gauge DMUs for Ferrovia Circumetnea's 110 km line around Mount Etna in Sicily.