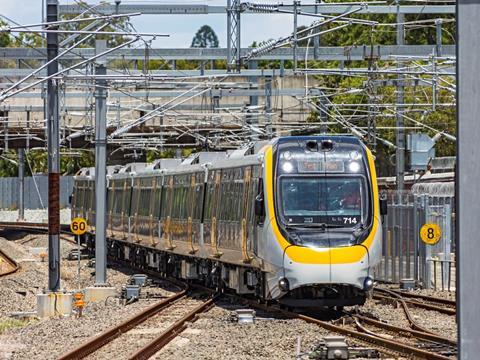 AUSTRALIA: The first of 75 New Generation Rollingstock trainsets being built by Bombardier for the Brisbane suburban network are expected to begin carrying passengers on December 11, Queensland Rail Chief Executive Officer Nick Easy confirmed on December 6.
With 70% of Queensland's population growth expected in the South-East region, the NGR project is intended to provide a 26% increase in capacity as well as allowing the replacement of Brisbane's oldest EMUs dating from 1979. Each six-car set has capacity for 964 passengers including 12 spaces for people with reduced mobility.
The EMUs are being supplied under an A$4·4bn PPP concession awarded to the Qtectic consortium of Bombardier, John Laing, Itochu and Aberdeen Standard Investments. Built at Bombardier's Savli plant in India, the trains are to be maintained for 32 years at the purpose-built Wulkuraka depot near Ipswich, which will eventually employ around 200 staff.
To date Bombardier has delivered 19 units for commissioning and testing, of which three are to be put into revenue operation. They will initially be deployed on the Gold Coast line between Brisbane Airport and Varsity Lakes, where QR's Robina stabling facility is the first of seven being upgraded to service the trains. Up to 18 sets will be needed to enhance capacity during the 2018 Commonwealth Games in April.
Following an announcement by Transport Minister Jackie Trad in September that further work was required to ensure the trains complied with accessibility standards, QR and Qtetic have reportedly applied for a temporary exemption to allow the first units to enter service pending modification. Easy said the rectified trains would be rolled out 'progressively' over the coming months.
'Today is a very special day for the people of South-East Queensland', said Andrew Dudgeon, Managing Director of Bombardier Transportation Australia. 'The new fleet will provide a safer, more comfortable and better-connected passenger experience.' Qtectic Chair Bill Haughey added that a 'close partnership' had seen 'all parties working tirelessly to bring the project to this important milestone'.