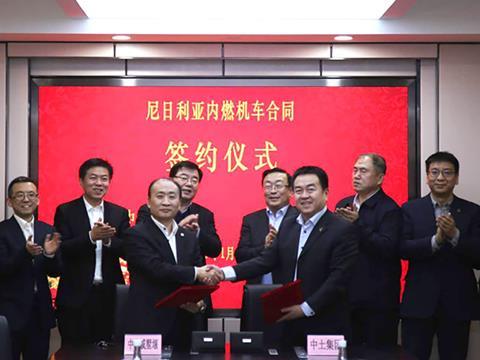 NIGERIA: China Civil Engineering Construction Corp has awarded CRRC Qishuyan a contract to supply diesel locomotives and multiple-units for use in Nigeria.
The order covers four NDJ3N diesel multiple-units, two DF7GN shunting locomotives, six DF11GN passenger locomotives and nine DF8BN freight locomotives. The first batch of 10 locomotives is scheduled to be delivered in October.
The fleet is to be used on the 187 km standard gauge line between Kaduna and Abuja which was inaugurated in July 2016, and the 156 km standard gauge line between Lagos and Ibadan which is under construction for opening in 2020.
CRRC Qishuyan said the contract signed last month was the largest locomotive export order that it had won. It hoped this would open the West African main line locomotive market for its products.