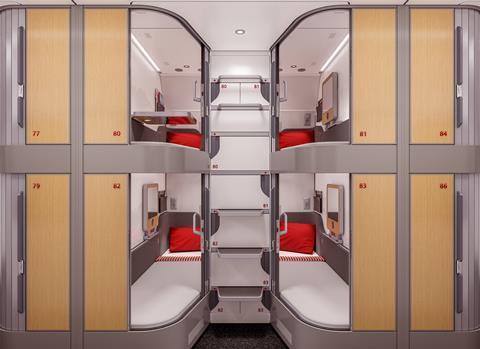 AUSTRIA: ÖBB has unveiled the interior designs for the sleeping car and couchette vehicles in its Siemens-built Nightjet overnight trains which are scheduled to enter service from 2022.
Developed with customer feedback following public consultation using compartment mock-ups at Wien Hbf in 2016, the interior accommodation is intended to 'combine eco-friendly travel with a pleasant atmosphere and a touch of futuristic design', in 'a timeless, chic and needs-oriented' configuration, the operator explained.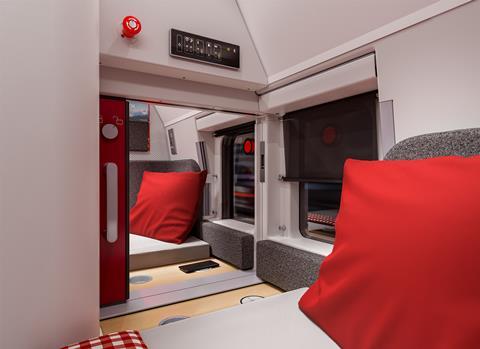 Reflecting the Nightjet operating model of splitting and joining to maximise the number of destinations served, the air-conditioned trains will be formed of seven-car portions. Each of these will comprise two seats cars, three couchettes and two sleeping cars. All vehicles will be fitted with free onboard Wi-Fi, which was previously only available in ÖBB's Railjet inter-city trainsets. All interior lighting will be LED.
Range of accommodation
Various types of sleeping accommodation will be provided to meet the needs of different user groups. Adopting an approach trialled unsuccessfully in the mid 20th century, ÖBB plans to provide tapered beds in all categories, providing more width at the head end and freeing up room for more circulating space at the foot. All compartments will be equipped with a charging socket and wireless charging, together with a magazine pocket for storing personal belongings.
The biggest innovation will be the provision of so-called MiniSuites in the couchette cars, as well as the classic compartments aimed at family and group use. These suites are intended to meet a growing demand for greater privacy among solo travellers, with lockable 'sleeping capsules' stacked in pairs each side of a common access ladder. Sliding doors in the partition behind the ladder can be opened to connect a pair of capsules on one level if required. A separate luggage locker for each capsule will be provided in the gangway adjacent to the compartment.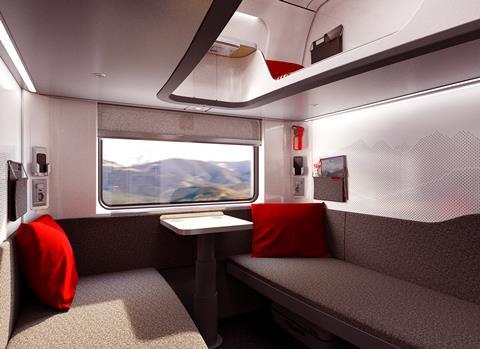 Each capsule will have a fold-down table on the side wall, together with an integrated mirror and reading lamp, plus the charging facilities and storage pocket, as well as a coat hook. A roller blind will ensure privacy at night.
The four-berth sleeping compartment is primarily aimed at families and small groups, providing fixed beds at both levels and a functional interior. As with the luxury compartments, luggage space is provided below the lower berths, and a retractable table allows space for a cot if necessary. In this case the ladder is removable to provide more space during daytime use.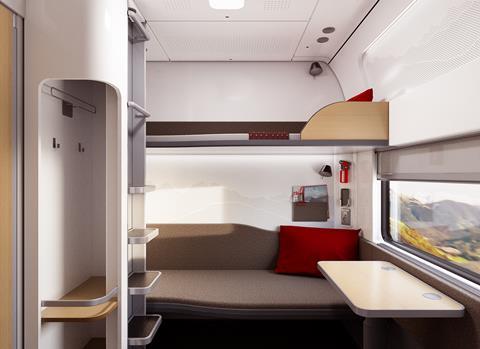 At the top of the range are twin-berth sleeping compartments with an en-suite toilet and shower cabin. These are designed to provide a comfortable lounge during the day, with the fixed beds accompanied by a separate bench seat and retractable table. Generous luggage space will be provided below the lower berth. A fixed ladder will lead to the upper bunk, which will have integrated fall protection in a real wood finish.
Framework contract
The 13 seven-car Nightjet rakes are being supplied under a €1·5bn framework agreement between ÖBB and Siemens Mobility signed on August 17 2018, which provides for the supply of up to 700 coaches over five years. The initial firm order was for eight nine-car rakes of day stock to replace EuroCity vehicles which cannot be used on routes to Italy from 2021 because of new fire regulations. Production of the new stock began at Siemens' Wien plant in April 2019, and all 21 trains are scheduled to be in service by mid-2023.