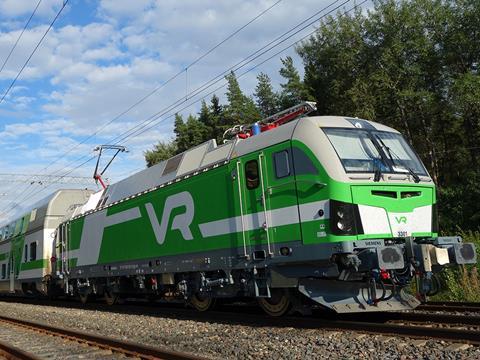 FINLAND: The first eight locomotives from the Nordic version of the Vectron family entered revenue service with VR Group on May 31, after being approved for operation by safety agency Trafi and formally handed over by Siemens on May 26. The first revenue trip was a freight service from Tampere to Vuosaari Harbour in Helsinki.
Siemens is to supply 80 of the locomotives to national operator VR by the end of 2026, under contract awarded in February 2014. There are options for up to 97 more.
Designated Class Sr3 by VR, the 6·4 MW locomotives with a maximum speed of 200 km/h are being assembled at Siemens' München plant. The Nordic variant of the Vecton family makes extensive use of new equipment, requiring five locomotives to be used for testing and TSI certification. The first eight locos are to be used on a diverse range of passenger and freight services for the next 12 months, to identify any technical issues ahead of series production
Custom features for operation in Finland include 1 524 mm gauge bogies, automatic couplers, the national JKV-STM train control system as well as ETCS, and two diesel power modules which can be used for short-distance operation in non-electrified sidings. Winterisation features include the ability to operate at temperatures of -40°C, rather than the -25°C that Siemens normally designs for, and to cope with powder snow and frequent collisions with large animals.