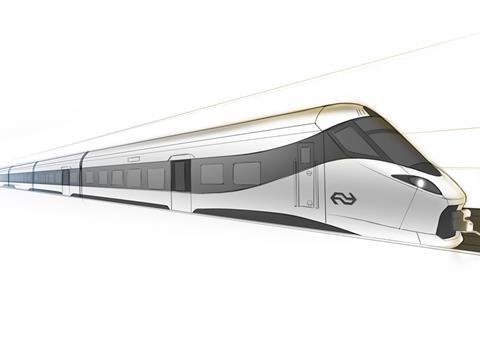 NETHERLANDS: National passenger operator NS formally awarded preferred bidder Alstom the Inter-city New Generation contract for the supply of 79 electric multiple-units on July 15.
The contract worth more than €800m has been finalised following the rejection of an objection from Siemens, one of the four bidders which had been invited to submit best and final offers.
The order covers an initial 49 five-car and 30 eight-car IC-NG trainsets, which will be part of Alstom's Coradia family. There are options for NS to order more units. The EMUs will have a maximum speed of 200 km/h, and be equipped to run on the 25 kV 50 Hz HSL-Zuid high speed line as well as the 1·5 kV DC conventional network. ETCS and national safety systems will be fitted.
Roel Okhuijsen, New Rolling Stock Programme Director at NS, said the trains would combine speed, comfort and accessibility, and be based on proven technology but be 'ready for the future'. There will be areas for work, rest, socialising and meeting, with two classes of seating and all seats having power and USB sockets. There will be wheelchair-accessible toilets, wi-fi, information displays, separate recycling bins, LED lights with intelligent control, CCTV and emergency buttons.
The design is to be finalised through consultation with passengers, crews, maintenance staff and cleaners in 2016-17.
Alstom said the trainsets would be designed and developed at its sites at Saint-Ouen in France and Salzgitter in Germany, and manufactured at Katowice in Poland. The company's Charleroi site in Belgium will supply on-board signalling equipment, and Ridderkerk in the Netherlands will be responsible for commissioning, warranty, support, training and services. Other French sites involved will include Valenciennes with responsibility for interior fittings, Reichshoffen for the design of the cabs, Ornans for the traction motors, Tarbes for the design of the traction inverters and the manufacturing of power modules, and Villeurbanne for electronics, internet systems and passenger information.
Pre-series vehicles be produced in 2017-18 for testing at the Rail Tec Arsenal climate chamber in Wien and on dedicated test tracks, ahead of acceptance testing on the Dutch network from 2019 and the start of series production. Entry into service is planned for 2021 on the Amsterdam – Rotterdam – Breda and Den Haag – Eindhoven routes.