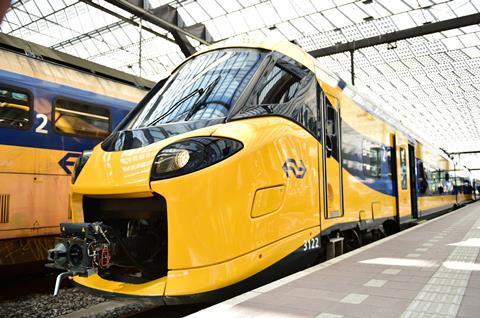 NETHERLANDS: The Intercity Next Generation trainset was officially unveiled by Acting President of national passenger operator NS Bert Groenewegen and Alstom CEO Henri Poupart-Lafarge at Rotterdam Centraal station on July 2, ahead of entry into service later this year.
NS said the trains would become an iconic image in the Dutch landscape for the next 30 years. They will be introduced on Amsterdam – Rotterdam – Breda services, followed by Den Haag – Rotterdam – Eindhoven and on the high speed line from Amsterdam and Rotterdam to Antwerpen and Brussels.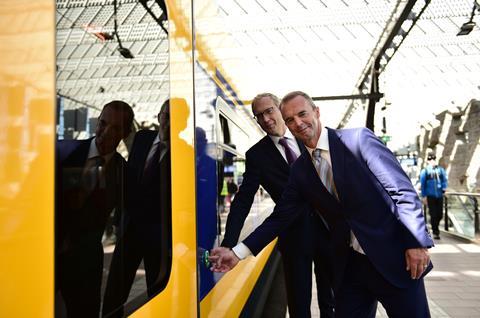 Services from Rotterdam to Amsterdam, Zwolle, Leeuwarden and Groningen will then follow.
Three variants
In 2016 Alstom beat Bombardier Transportation, Siemens and Stadler to win a €800m contract to supply 49 five-car Series 3100 and 30 eight-car Series 3200 ICNG units, able to operate using the 1∙5 kV DC electrification on the conventional network and at up to 200 km/h using the 25 kV 50 Hz overhead on the HSL-Zuid high speed line.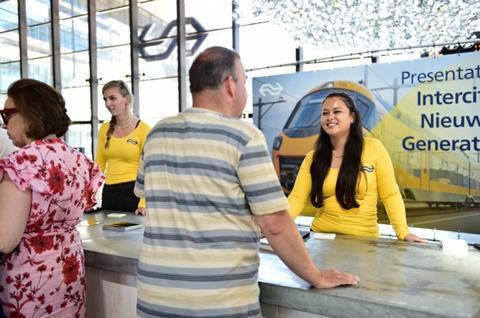 NS subsequently ordered a total of 20 eight-car Series 3300 (ICNGB) sets to replace locomotive-hauled stock on the Amsterdam – Brussels international route. These will be equipped to use 3 kV DC overhead and interface with the TBL train protection system in Belgium.
A new era
Bernard Belvaux, Managing Director of Alstom Benelux, said the Coradia Stream offers 'highly reliable, energy efficient, safe and comfortable transport', with an availability rate of over 97% and easy maintenance.
Alstom has now received ordered for almost 900 Coradia Stream trainsets from Denmark, Germany, Italy, Luxembourg, Romania, Spain and the Netherlands, and said the Dutch trains would launch 'a new era' for the travelling public.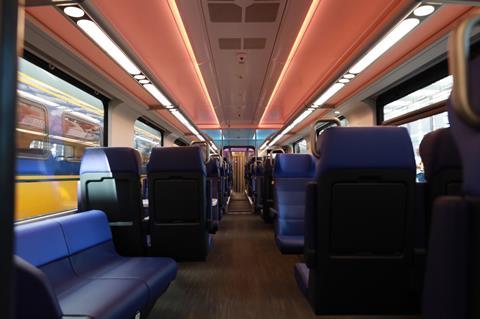 The ICNG sets feature 'spacious and well-lit' interiors with air-conditioning, wi-fi, charging points at every seat, LED reading lamps and space for bicycles.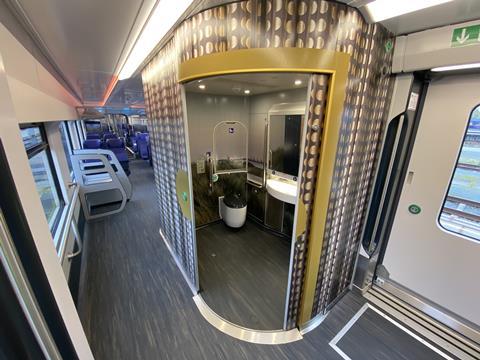 There is level boarding at Dutch platforms, with dedicated wheelchair spaces and accessible toilets.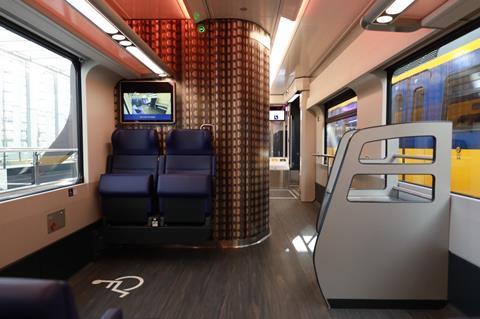 The five-car sets have 256 seats and the domestic eight-car versions 417. One car includes first class seating arranged 2+1 with a quiet zone and a lounge area with inward-facing bench seats. Second class seating is mostly 2+2 seating, but there are also fold-down and inward-facing bench seats.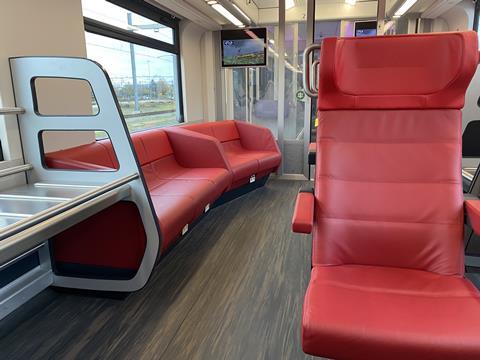 The ICNGB sets will have have additional luggage space and one extra toilet, reducing the number of seats to 410.
The EMUs have a maximum speed of 200 km/h, and are equipped for regenerative braking and fitted with ETCS.
The aerodynamics and components including the bogies with pneumatic suspension are intended to reduce noise internally and externally.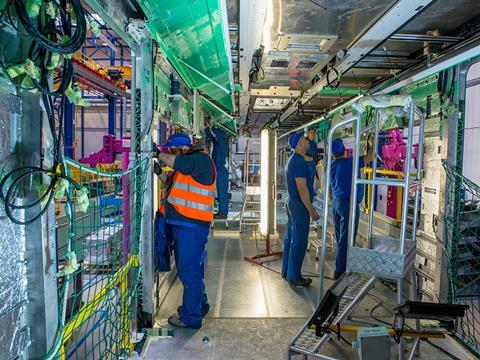 Production is being undertaken at Alstom's Katowice plant in Poland. Entry into service had been planned for 2021, but is behind schedule because the Covid-19 pandemic disrupted the global supply chains involved.
The ICNG programme is described in more detail in the July 2022 issue of Railway Gazette International magazine.