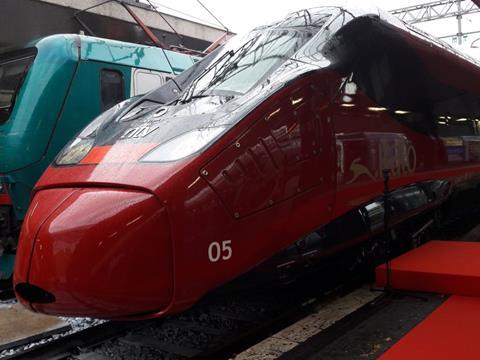 ITALY: High speed open access operator Nuovo Transporto Viaggiatori announced on November 29 that the first four of its fleet of 17 italo Evo trainsets will officially enter service on December 7, just before the start of the winter timetable three days later. The announcement was made at a presentation of an Evo trainset in Roma, when guests rode the train between Termini and Tiburtina stations.
NTV also announced that it is stepping up the number of Roma – Milano services from 40 to 50 trains a day, with half-hourly departures in both directions for much of the day. There will be an additional non-stop service leaving Milano at 06.00 and arriving in Roma at 08.59, as well as a 20.35 service from Milano Centrale that reaches Roma Termini at 00.05. NTV is also introducing more Roma – Firenze services and launching Italobus connections to ski resorts in northern Italy from Verona and Torino.
Delivery of the full fleet of Italo Evo trainsets from Alstom will allow NTV to operate additional services during 2018, including on the Torino – Milano – Venezia route.
Luca Cordero di Montezemolo, who returned to NTV as President in September, along with Flavio Cattaneo as CEO, said that 'the train is a source of great pride for all NTV men and women. The 17 new Italo Evo trains will increase the size of our fleet by 65%, enabling us to offer more frequent journeys and more connections, launching new routes and serving more stations.'