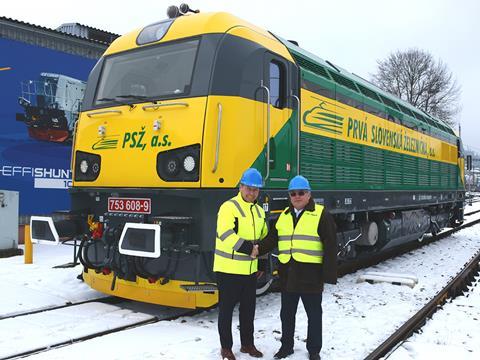 EUROPE: Slovakian open access freight operator PSŽ has taken delivery of EffiLiner 1600 diesel locomotive number 753.608 under a long-term lease from CZ Loko, which produces the locomotives by rebuilding ex-ČD Class 750/753 'Bizon' diesel locos.
The Class 753.6 is rated at 1 550 kW, has a maximum speed of 100 km/h and is approved for operation in Hungary, Slovakia and the Czech Republic.
CZ Loko has delivered five similar locomotives to private fright operator SD-KD, and two to Unipetrol Doprava. The ninth of the type is being assembled for CER Hungary, and the tenth for for CER Slovakia.
Meanwhile, CER Slovakia has ordered a 3 kV DC/25 kV 50 Hz EffiLiner 3000 electric locomotive, which is to be rebuilt from an ex-SNCB Class 12. The first of the 2 910 kW EffiLiner 3000 rebuilt locomotives with a maximum speed of 120 km/h was sold to IDS Cargo in May 2017.