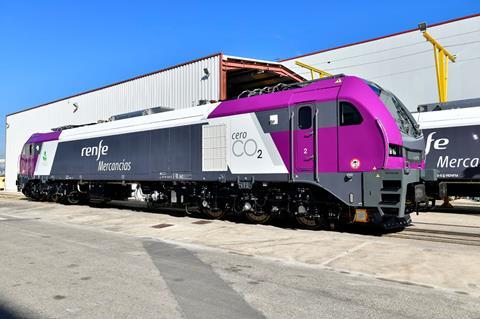 SPAIN: Stadler and national freight operator RENFE Mercancías have unveiled the first four of 12 Class 256 Euro 6000 electric locomotives designed to be able to haul 1 800 tonne trains through the Pajares Base Tunnel which is now expected to open in spring 2023.
The locos are being supplied from Stadler's Valencia plant under a €70·7m contract awarded on July 28 2021. Six are now expected to be delivered this year.
The 6·2 MW six-axle locomotives are equipped to use 25 kV 50 Hz, 3 kV DC and 1·5 kV DC electrification systems.
The 1 668 mm gauge bogies have provision for modification to enable use on 1 435 mm gauge lines.