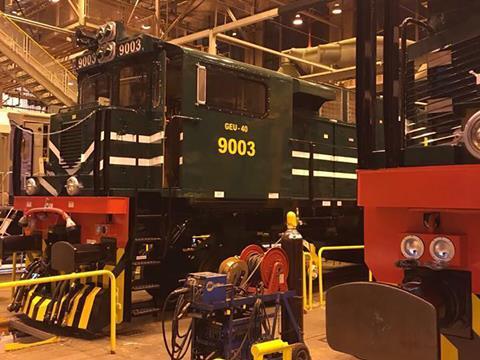 PAKISTAN: GE Transportation announced an agreement to supply 20 FDL C20EMP diesel locomotives to Pakistan Railways on June 7.
The 1 676 mm gauge C20EMP locomotives are to be supplied from Erie in the USA by the end of 2018. They will be a lightweight 2 000 hp mixed traffic design suitable for use on mountainous routes in the north of the country. They will initially be used between Karachi and Lahore and on coal and oil trains to Faisalabad and Multan, before being deployed on the routes to Peshawar and Quetta.
The order has been placed as part of a government strategy to increase rail's share of the transport market from 4% to 20% within 10 years. 'We continue to make great strides towards reaching the transportation goal as part of the country's Vision 2025 plan', said Minister of Railways Khawaja Saad Rafique when the agreement was announced. 'Modernising rail transportation and improving regional connectivity are critical components of the government's plan, and we are confident that our relationship with GE will help achieve these goals.'
The order builds on a 2015 contract for the supply of 55 Evolution Series ES43ACi locomotives, 32 of which have now been delivered.
The latest order is 'a testament to our reliability and innovation', said Sarim Sheikh, President & CEO of GE Pakistan. 'We look forward to delivering strong locomotives that help the country reach its goals in improving rail infrastructure across the country, improving the quality of services to citizens and supporting the nation's economy.'