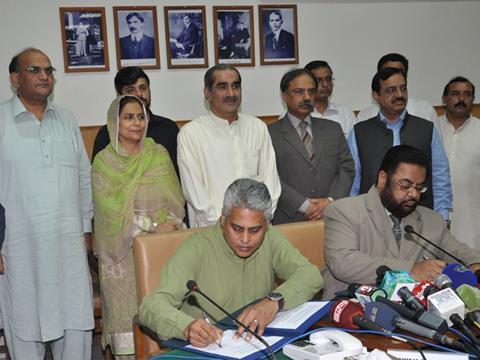 PAKISTAN: An agreement for Pakistan Railways to purchase 55 GE Transportation diesel locomotives was signed by PR's Director of Procurement Ziauddin Ahmed Qureshi and GE Regional Sales Director Ashfaque Nainar in Lahore on June 20.
The 1 676 mm gauge 4 500 hp locomotives are to be supplied from the USA fully assembled, with deliveries scheduled to run from November 2016 to April 2017. They would cost Rs500m each, including taxes, and are expected to pay for themselves within three years.
Minister of Railways Khawaja Saad Rafique said 40 of the locomotives would be used to haul coal to the Sahiwal and Jamshoro power stations, and 15 would be used on general freight services. 'It is the first time in the history of PR that such locomotives of latest technology are being inducted in the fleet,' said Rafique, adding that all future procurements would be from companies with a proven export record.