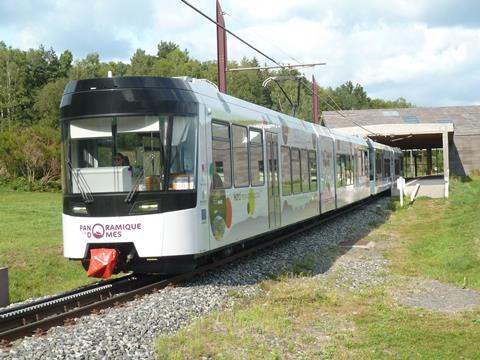 FRANCE: Suppler Stadler and local company ACC M are to undertake the mid-life refurbishment of the four GTW2/8 trainsets used on the Panoramique des Dômes mountain railway.
The 5 km metre-gauge line equipped with the Strub rack system opened in 2012 to provide access to the summit of the Puy-de-Dôme, an extinct volcano near Clermont-Ferrand. It is operated by the TC Dôme joint venture of SNC Lavalin and Transdev.
The refurbishment at ACC M's Clermont-Ferrand plant is to be specified and supervised by Stadler, with the bogies sent to Switzerland for overhaul by the manufacturer.
To cope with high ridership only one trainset will be refurbished at a time, with the first to be taken out of services after the summer season in November and completed ready for summer 2024.
ACC M said its success in winning the contract could lead to further work in partnership with Stadler.