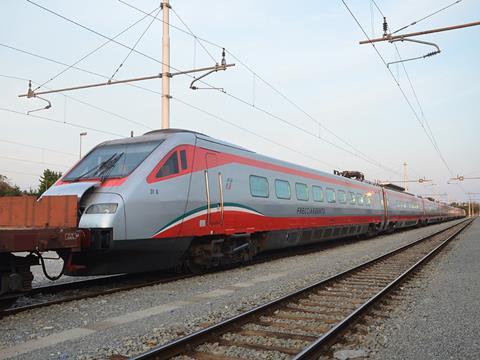 GREECE: One of the ERT485 Pendolino trainsets which Trenitalia uses in Italy is on its way to Greece for testing with a view to possible future deployment on the Athens – Thessaloniki route.
Ongoing upgrading projects including the 54 km new alignment between Tithorea and Lianokladi have raised the maximum line speed on the Athens – Thessaloniki corridor to 200 km/h, offering the potential for a journey time of 3 h 20 min. However, Greek operator Trainose – which is now owned by Trenitalia parent FS Group – lacks suitable rolling stock.
Dual voltage trainset ETR485 31 is being delivered by rail, leaving Italy and arriving in Slovenia via Villa Opicina on August 20, and passing through Croatia on August 22. The 250 km/h tilting trainset will be exhibited at the 83rd Thessaloniki International Fair on September 8-16, and will then be used for testing and driver training.
Regular services would be subject to the completion of infrastructure upgrading works on the corridor.