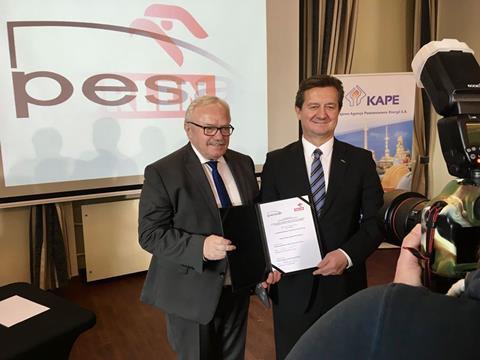 POLAND: Rolling stock manufacturer Pesa and energy company PKN Orlen signed a letter of intent to develop hydrogen fuel cell trains on December 12.
The agreement covers knowledge exchange and testing, with the aim of developing the technology for commercial use in the freight and passenger sectors.
Noting that the hydrogen fuel cell is 'a very promising technology in rail transport', Pesa's Vice-President, Operations, Krzysztof Zdziarski said that the initial project would see the development of a freight locomotive. This could be followed by multiple-units for passenger transport.
PKN Orlen says that Poland is one of the largest hydrogen producers in the world. The company currently produces around 45 tonnes/h of high-quality hydrogen during its oil refining processes, and sells this for use in cars at two refuelling stations in Germany. Next year it intends to build three refuelling stations in the Czech Republic through its Unipetrol subsidiary.
'We are widening our potential market to include rail transport, which will have a much greater demand for hydrogen in the future than car transport', said Józef Węgrecki, PKN Orlen board member for operations.
PKN Orlen plans to build a hydrogen purification plant at its Trzebinia site, with production of clean hydrogen for fuel cell use expected to commence in 2021.
'We are aware of coming changes', said PKN Orlen Chairman Daniel Obajtek. 'Like other fuel companies, we are preparing ourselves for the energy transformation.'
In October PKN Orlen signed a letter of intent with the Górnośląsko-Zagłębiowska agglomeration to develop hydrogen fuel cell technology for public transport applications.