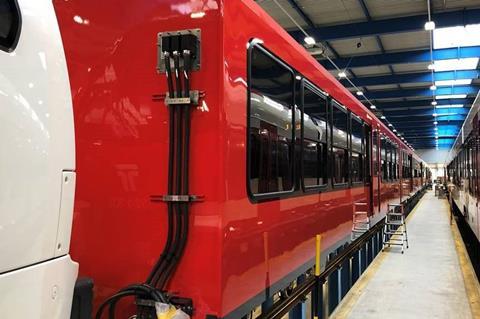 USA: The first of the coaches which Stadler's Bussnang plant in Switzerland is building for the Broadmoor Manitou & Pikes Peak Cog Railway in Colorado has been handed over to the commissioning team.
The 14·3 km standard gauge mountain railway opened in 1891. Following a review of the infrastructure the decision was made that the line would not reopen in 2018, but later that year Manitou Springs City Council approved tax incentives to support a major modernisation programme which began in early 2019. Reopening is scheduled for May 1 2021.
The $100m project includes complete renewal of the tracks by contractor Stacy and Witbeck, changing from the Abt to the Strub rack system, remodelling of Manitou Springs depot and an order for Stadler to supply three Hm4/4 rack-and-pinion diesel locomotives and nine coaches.
The push-pull trains will be formed of a locomotive and three coaches providing a total of 250 fixed and 13 folding seats, and will operate at a maximum speed of 25 km/h uphill and 18 km/h downhill.
Four older diesel railcars manufactured by SLM will remain in passenger service, and one will be used for works duties.
A snow blower has also been ordered from Swiss company Zaugg.