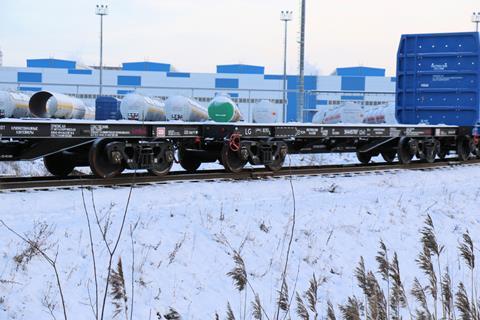 POLAND: Laude Smart Intermodal has awarded United Wagon Co a contract to supply 200 Type Sgmmns 1 435 mm gauge flat wagons for transporting heavy-duty containers.
The Russian manufacturer said the wagons it had developed would differ from similar vehicles available on the European market. They will have a tare weight of 15·5 tonnes, compared with 16 tonnes and higher for typical designs, with an axleload of 22·5 tonnes.
The wagons will have the capacity to carry two 20 ft heavy-duty containers each with a gross weight of 37·25 tonnes, a single 40 ft container with a gross weight of 40 tonnes, or a specialized container with a gross weight of 74·5 tonnes.
TSI certification testing is planned for February, with deliveries by the end of the first half of 2020.
'Developing co-operation with Laude Smart Intermodal in the 1 435 mm gauge region is an important step towards implementation of UWC's export strategy', said Boris Myagkov, the manufacturer's Deputy CEO for Commerce & Marketing, when the order was announced on December 17. 'Major international companies now view UWC as a reliable supplier that is able to develop and put into production various types of wagon, meeting all kinds of international standards and fulfilling client requests.'
Laude Smart Intermodal CEO Marcin Witzchak said the freight operator had been 'impressed by the scale and technical capacity' of UWC's Tikhvin plant. 'Not every European producer can boast of such high standards as those set by UWC in terms of technical capabilities, competencies, and performance', he said. 'Furthermore, our successful experience of operating Tikhvin-produced flat cars in the 1 520 mm gauge region helped in our decision to purchase an additional batch of wagons from UWC for 1 435 mm gauge track.'