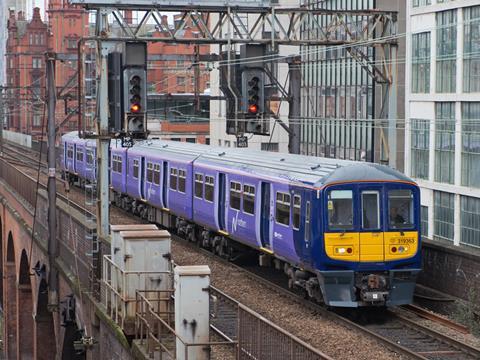 UK: Faced with an ongoing shortage of diesel multiple-units and delays to Network Rail's electrification programme, rolling stock company Porterbrook Leasing and Northern franchise operator Arriva announced on December 22 that they are to develop an electro-diesel multiple unit by converting former Thameslink dual-system Class 319 EMUs.
Northern has already taken delivery of around 20 of the 86 four-car Class 319s which are being replaced by Siemens-built Class 700s under the Thameslink Programme. These have been refurbished to operate on the recently-electrified Manchester – Liverpool and Liverpool – Preston routes. Porterbrook has 'committed to deliver to Northern' the modified Class 319 Flex variant 'which is able to operate seamlessly over electrified and non-electrified routes'. It says the project is being supported by the Rail North partnership of local authorities in the north of England.
Mirroring the development of the Class 230 DMU by Vivarail using former London Underground D78 metro trains, the Class 319 Flex would have a diesel alternator powerpack installed under each of the driving trailer cars. This would feed the existing traction motors via the train's DC bus to minimise any changes to the equipment. The unit would be able to operate on diesel, 25 kV 50 Hz overhead or 750 V DC third rail supplies.
Following the completion of concept design, the detailed design work has started in conjunction with Wabtec's Brush subsidiary. Despite reported concerns over the structural condition of the 30-year old bodyshells, the first units are expected to enter passenger service with Northern 'by spring 2018'. Further trains would then be made available to 'a wide range of operators' who could potentially make use of the dual-mode capability on partially-electrified routes.
Porterbrook's Projects & Technical Director Zena Dent said the Class 319 Flex would be 'a flexible and highly-efficient unit that will provide operators with a "go-anywhere" train'. By minimising the alterations to the existing vehicle design, the partners are aiming to keep the cost of conversion at 'an attractive level'. The train could be used to replace existing DMUs or offer enhanced performance by the fitting of extra batteries for energy storage if required.