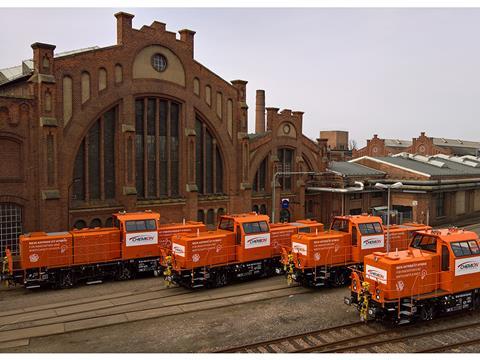 GERMANY: Federal railway office EBA has certified Alstom's Prima H3 battery-diesel shunting locomotive for operation at up to 100 km/h, paving the way for main line operation.
Announcing the certification on April 5, Alstom said the Prima H3 was the only three-axle shunting locomotive certified to operate at this speed and thus able to be easily integrated into regular services.
'We are very pleased with this important milestone as it offers greater flexibility to our customers', said Didier Pfleger, Vice-President of Alstom Germany & Austria. 'Our environmental-friendly and space-saving locomotive allows efficient shunting on tracks with tight curves as well as fast service on main lines'.
A total of 19 Prima H3 hybrid locomotives are in service with Deutsche Bahn, Volkswagen, Audi, InfraLeuna, Mitteldeutsche Eisenbahn and Chemion Logistik. Alstom says the Prima H3 with a 350 kW Stage IIIB compliant engine uses 50% less fuel than conventional diesel shunting locomotives, and reduces nitrogen dioxide emissions by up to 70%. The locos spend 50% to 75% of their operating time in battery mode, and can be used to ensure emission-free operation in city centres or factory buildings.