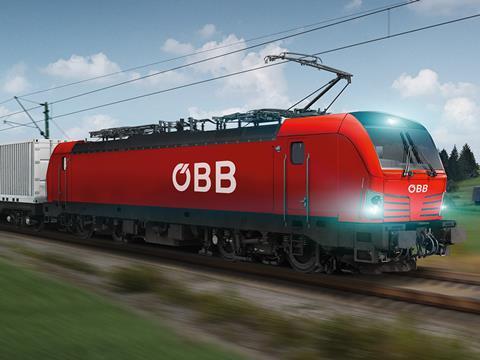 AUSTRIA: ÖBB has exercised an option for Siemens Mobility to supply a further 61 Vectron MS electric locomotives for use by Rail Cargo Group on cross-border routes in several countries.
The national railway has now placed firm orders for a total of 108 Vecton locomotives within a January 2017 framework agreement for up to 200.
The latest locomotives are scheduled to be delivered from Siemens' München-Allach factory from March 2020. The 6·4 MW locomotives will have a maximum speed of 160 km/h, and will be equipped with national train control systems as well as ETCS.
Siemens Mobility has now sold more than 800 Vectron locomotives to 42 customers, and they are certified to operate in Austria, Bulgaria, Croatia, the Czech Republic, Finland, Germany, Hungary, Italy, the Netherlands, Norway, Poland, Romania, Serbia, Slovakia, Slovenia, Sweden, Switzerland and Turkey.
'The fact that ÖBB is again calling an option from the standing framework contract confirms the reliability and performance of our Vectron platform', said Siemens Mobility CEO Sabrina Soussan when the latest order was confirmed on March 19. 'It provides sustainable value creation over the entire life-cycle, thus enabling our customer to make long-term plans for the future.'