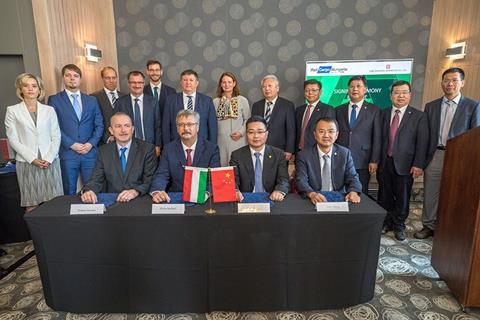 HUNGARY: ÖBB-owned freight operator Rail Cargo Hungaria has awarded CRRC Zhuzhou Locomotive a contract to supply four prototype 'high power' electric–battery main line and shunting locomotives.
The two types of locomotive have been designed to RCH's specifications at CRRC's expense. The shunters are intended to replace diesel locomotives in Hungary, and the main line electric locomotives with batteries for 'last mile' operation would be used in Hungary Croatia, Serbia, Romania, North Macedonia, Greece and Bulgaria.
Under the agreement announced on September 12, two shunters and two main line locomotives are scheduled to be delivered and authorised for Hungarian and international use within 36 months. The operator would lease them for four years under a contract including full maintenance.
If they perform as expected, RCH has the option to either extend the lease or buy the locomotives, and to place an order for 20 more of each type 'on advantageous terms'.
'We will be the first company in the sector utilising these clean and economically operated locomotives', said RCH Cahirman Dr Imre Kovács. He said the operator would be able to used the locos 'more effectively and flexibly' than current designs, with 'cheap and clean' operation on non-electrified routes being advantageous in the wagonload freight market.
Battery power will offer environmental benefits and more flexible operation, said Chief Financial Officer Román Kotiers. 'Diesel shunting locomotives move the heavy wagons in dozens of short attempts with frequent acceleration, during which they emit large amount of smoke', he said. 'In international traffic it is possible that on some routes, due to construction works or breakdowns, no overhead electrification is available. In these cases, the traditional electric locomotive needs to be replaced by diesel locomotives which costs the railway company time and money. The development starting with the contract signed today will provide a solution for such problems.'
CRRC and its constituents has now won orders to supply locomotives and multiple-units to operators in several European countries, including Belarus, Estonia, Georgia, North Macedonia, Serbia, the Czech Republic and Germany.