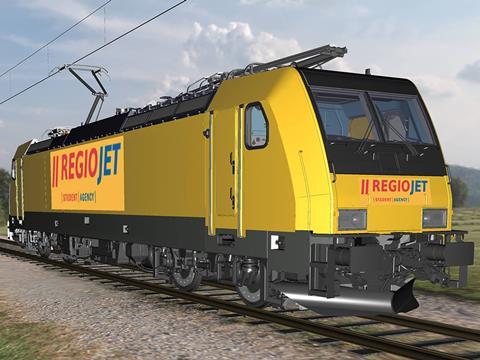 CZECH REPUBLIC: Open access passenger operator RegioJet announced on April 18 that it had ordered eight Bombardier Transportation Traxx multi-voltage electric locomotives with an option for 20 more. The company has also awarded Astra Vagoane Călători a €16m contract to supply a further 16 open saloon passenger coaches with 80 seats by the end of the year.
The locomotive order is being funded from RegioJet's own sources and bank loan, but the value was not disclosed. Five of the 160 km/h Traxx locomotives are scheduled to be delivered by the end of the year, with the remaining three to follow in 2018. They will be equipped for operation in the Czech Republic and Slovakia, where RegioJet operates inter-city services on routes including Praha – Ostrava – Žilina – Košice and Praha – Brno – Bratislava/Staré Město u Uherského Hradiště.
RegioJet currently has a fleet of nine Škoda-built 3 kV DC Class 163 locomotives acquired from FNM of Italy and leases five Class 193 Siemens Vectron MS locos from ELL of Austria.
Meanwhile, RegioJet has introduced a sixth travel class, using coaches acquired second-hand from Swiss Federal Railways last year. The new low-cost class offers fares 20% cheaper than standard class, and similar to competitor LEO Express. The price includes a seat reservation, bottled water, wi-fi and newspapers, but there are no power sockets, large tables or refreshment service. The low cost class is targeted at shorter distance passengers, with reservations available only for journeys under 4 h. The new coaches also allow bicycles or skis to be carried for the first time.