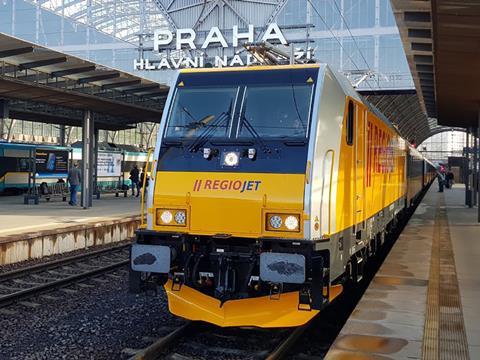 CZECH REPUBLC: The first of eight Bombardier Transportation Traxx multi-system electric locomotives ordered by open access operator RegioJet in April 2017 entered service on May 16.
The first passenger train to be hauled by one of the new locomtives was RJ1017, the 17.48 from Praha to Ostrava and Návsí.
After several days of pilot operation on domestic routes, RegioJet plans to deploy the Traxx locomotives on services from Praha to Brno, Bratislava and Wien. RegioJet said this would be the first use of Traxx locomotives on regular passenger trains in the Czech Republic and Slovakia.
RegioJet is also about to put into service the first two of 16 coaches being supplied by Astra. The open saloon coaches feature touchscreen entertainment devices at each seat.