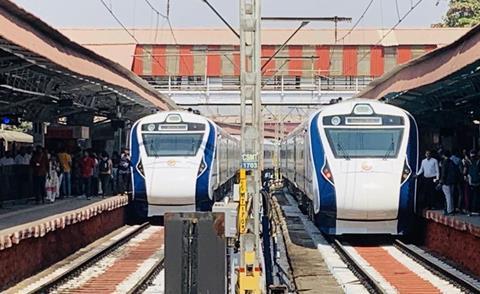 INDIA: Indian Railways has formally notified a consortium of Rail Vikas Nigam Ltd and Russian company Transmashholding that it has been selected as the winner of a US$1·8bn contract to manufacture 120 third-generation Vande Bharat Express 16-car trainsets.
The consortium was named as the lowest bidder in March, and Indian Railways notified it that it was the winner on March 31. The contract is to be signed by June 1.
The consortium comprises TMH companies Metrowagonmash (70%) and Locomotive Electronic Systems (5%) with local company RVNL (25%), which is wholly owned by India's Ministry of Railways.
Tenders were invited in April 2022, and the technical bids were opened on November 30, after three extensions of the bidding period. The five bidders were Alstom and four consortia: TMH-RVNL, Titagarh Wagons with BHEL, Medha Servo Drives with Stadler and Siemens Mobility with Bharat Earth Movers Ltd.
TMH-RVNL is to produce the 160 km/h trainsets at Indian Railways' Marathwada Rail Coach Factory in Latura, where it is required to modernise the production facilities. It will also modernise the depots and maintain the trains for 35 years under contract worth US$2·5bn.
The sleeping car trainsets are intended to replace IR's loco-hauled Rajdhani Express trains, which provide overnight services on inter-city routes across the network.
Two prototypes will be delivered for testing by the end of 2025, with series production in 2026-30.
The second-place consortium of Titagarh and BHEL has been offered the chance to produce a further 80 trainsets at the same price as the winning consortium; if it declines then the other bidders will receive a similar proposal, and if there are no takers then the 80 trains will be added to the winning TMH-RVNL contract.