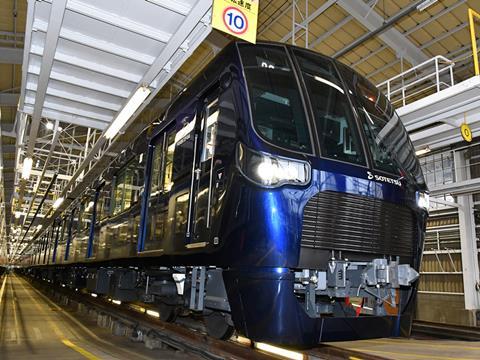 JAPAN: Sagami Railway put into service on February 11 the first of its Series 20000 EMUs, which have been designed for future through running to Tokyo.
Sotetsu Corp has ordered a fleet of six 10-car and nine eight-car Series 20000 EMUs to replace its older Series 7000 units. Built at Hitachi's Kasado plant, they will operate on its 24·6 km main line from Yokohama to Ebina via Nishiya and the 11·3 km branch from Futamatagawa to Shonandai. Serving a total of 26 stations, these 1 067 mm gauge lines are electrified at 1·5 kV DC.
The aluminium-bodied EMUs are derived from Hitachi's A-Train family, with 20 m long cars; a 10-car unit has five motor and five trailer vehicles. Each motor car has its own pantograph and a lightweight VVVF invertor pack containing a 3·3kV 1 800A silicon-carbide water-cooled diode, powering four 190 kW self-ventilated motors on the bolsterless air-sprung bogies. Design speed is 120 km/h.
Each intermediate vehicle has seats for 51 passengers and standing space for 143; the two driving cars carry 45 seated and 133 standing, giving a total capacity of around 1 400 passengers. The interior lighting system uses variable-brightness LEDs, which allows automated adjustment of the colour temperature from 2 700 K to 5 000 K depending on the time of day. Two types of priority seats are provided, including higher seats for elderly passengers with under-seat luggage space.
The Series 20000 vehicles have a maximum width of 2 787 mm, 230 mm narrower than older Sagami EMUs, in order to fit the loading gauge of Tokyu Corp's Meguro Line. This will facilitate the introduction of through services once the 10 km gap between the two railways has been closed.
Under the 'Tokyo Direct Line' project to be completed in the second half of 2022, Sotetsu plans to build a connection from Nishiya station to an existing JR Freight line at Yokohama Huzawa. Through services would use around 7 km of this line to reach the Meguro Line at Hiyoshi, offering a more direct route than changing to the Tokyu Toyoko line at Nishi-Yokohama.