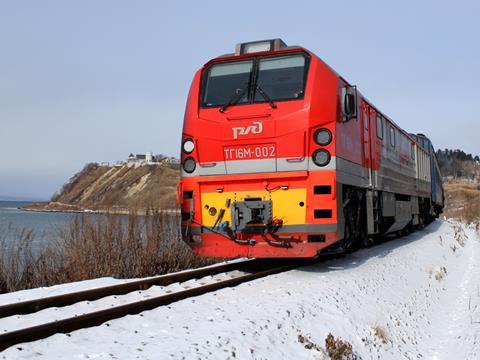 RUSSIA: The first of 32 TG16M locomotives for Russian Railways' 1 067 mm gauge network on the Pacific island of Sakhalin has begun six months of trial operation. The locomotive was inaugurated with a ceremony at Yuzhno-Sakhalinsk which included a blessing by the Archbishop of South Sakhalin.
The 100 km/h two-section locomotives were ordered under a 2011 agreement between RZD and Sinara Transport Machines, and are being built at the manufacturer's Lyudinovsky plant. The first underwent static and dynamic testing at the plant in October, and the second has been on test at the VNIKTI rolling stock research institute in Kolomna. Entry into regular service is planned from July 2015, with the new locomotives to be used to haul coal and other commodities on the line from Yuzhnno-Sakhalinsk to the port of Kholmsk, where gradients of up to 3% limit trains to 20 wagons.
Each locomotive section has a 1 470 kW 12DM-21L engine produced by the Ural Diesel Engine Plant, and a Voith L530breU2 hydraulic transmission intended to offer high tractive effort across the 1 000 kW to 1 700 kW range. Voith's newly-developed cooling system has SilentVent fans and lightweight double-block radiators designed to provide the maximum cooling output within a small installation space. The flexible driveline couplings from Voith's BR 152 and BR 199 range are designed to shift the critical natural frequencies below the operating speed, protecting components against vibration to increase service life.
Voith says the new locomotives have 40% higher power than the 36 obsolete TG16 locos which they will replace. Built in 1970-75, around 20 of the older locos remain in service. They also offer a higher maximum speed of 100 km/h, and are expected to provide greater reliability.
The TG16M locomotives have been designed to facilitate future conversion to 1 520 mm gauge as part of RZD's programme to regauge the island's railways, which were taken over from Japan after World War II.