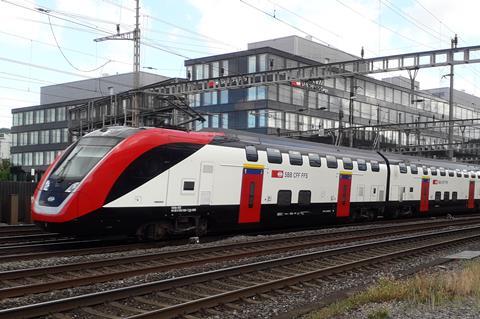 SWITZERLAND: Swiss Federal Railways has announced that it will no longer pursue plans to introduce active suspension on its fleet of Twindexx double-deck electric multiple-units.
SBB had planned to launch the technology on inter-city versions of its Twindexx fleet in 2027 as a means of saving 5 min on journey times between Lausanne and Bern and 2 min between Winterthur and St Margarethen. This would have offered a reserve that would have compensated for delays caused by maintenance and upgrading works. From 2036 onwards it would have been used to cut journey times without further investment in infrastructure improvements.
SBB said that tests had shown the technology actually reduced passenger comfort levels, commenting that in a niche market the highly complex equipment was comparatively prone to failure as well as being costly to maintain. It was therefore not sustainable.
Tests with a specially adapted IC2000 double-deck coach featuring active suspension date back to January 2011 following SBB's June 2010 order placed with Bombardier Transportation for a fleet of 59 Twindexx trainsets, later increased to 62 sets as compensation for late delivery.
Known as the WAKO (Wank-Kompensation) or roll movement tilt system, active suspension was intended to allow a 10% to 15% speed increase in curves. It was initially tested on routes from Lausanne to Fribourg and Yverdon and from Winterthur to Etzwilen and Bern to Thun. Developed as a result of trials with mechatronic bogies in Sweden, the technology was expected to halve the cost of infrastructure improvements needed to achieve planned journey time cuts.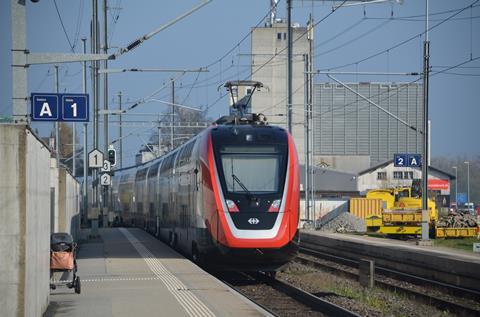 Later trials with the active suspension equipment on the Twindexx fleet, also known as Fernverkehr-Doppelstockzug (FV-Dosto), had revealed that comfort levels in curves were not satisfactory for SBB or its passengers and the operator would therefore settle for proven train designs and technology in its future fleet strategy.
As a result of its decision, SBB will replace the Twindexx fleets in the mid-2040s with 'standard rolling stock'. The proposed use of WAKO active suspension to achieve journey time cuts from 2036 would mean that the benefits would only be possible for around 10 years, SBB explained, making it an uneconomic proposition.
SBB CEO Vincent Ducrot said at the start of July that the decision opened up the possibility of improving comfort levels on the FV-Dosto fleet. SBB had asked Alstom to determine if the ride quality of the trains could be enhanced, and a feasibility study for this work had been commissioned.
Linus Looser, SBB's Head of Production for Passenger Services, said that the decision meant more operational flexibility and reliability. 'If an FV-Dosto set fails, it can be replaced by another type of train without an increase in the journey time'.
So far SBB has invested SFr32m in track improvements between Lausanne and Bern, but as agreed with the Ministry of Transport no further funds will be spent on work to permit use of active suspension. SBB will in the meantime seek approval from government to adjust the timetable concept planned for 2035 as well as explore ways to achieve shorter journey times.
In the long term a new line over the 97 km between Lausanne and Bern is being contemplated, and the government has commissioned a feasibility study due for completion 'in the autumn'. Similar proposals exist for Winterthur – St Margarethen.